The Role of a Salesforce Architect in Scaling Operations
You've heard about the Salesforce Architect role but you're not quite sure what it is or the impact it will have on your organization. You've heard about how they've elevated companies and enabled growth but the uncertainty of what this role does is daunting. You aren't alone.
To discuss this emerging position, we brought together a panel of Architects and RevOps leaders to share their expertise with the position. Our panel included:
Amber Boaz, Salesforce MVP and Salesforce Architect at Rapid7
Ezra Kenigsberg, Lead Architect at BigCommerce
Brian Wainwright, Director of Digital Transformation at PTC
David Carnes, Founder, and Evangelist at OpFocus
In this expert panel, you'll learn what a Salesforce Architect is to companies of different sizes, the changes that take place in your organization once you bring them onboard, the impact they have on your team's ability to scale, and when teams like yours should consider bringing one in-house.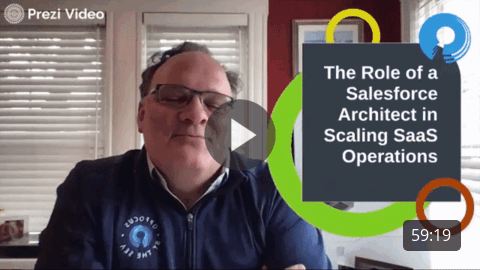 What is a Salesforce Architect?
"Anyone on the admin side of Salesforce should start thinking about themselves as an Architect." Ezra describes how he classifies this role, then mentions an acronym to sum up his thoughts: STAN (Start Thinking Architecturally Now.) When you reach a certain size, you'll want to have someone whose job is to think about architecture, but it's never too early to start thinking architecturally, even as an administrator. Whoever is in this role should always think about the "why," not simply act as an order taker.
Ezra categorizes Salesforce Architects using 3 factors:
Degree of hands-on work

– Is your Salesforce Architect primarily a hands-on doer and acting essentially an administrator? Or is your Architect more of a manager?

The role they play in their relation to other Architects working on Salesforce

– Are multiple Architects working in different silos within Salesforce? Or is there one Salesforce Architect in charge of everything?

Interaction outside of Salesforce

– Is your Architect working on platforms outside of Salesforce or do you have specialists for each platform in your tech stack?
Salesforce has so many types of Architects, is certification meaningful?
Brian: "Certifications are as valuable as they are hard to get. If they're easy to get, then they're not as valuable. They provide a base level of competence in a specific area."
Amber: "As a hiring manager, it's a door opener but not an automatic acceptance. You must be able to articulate your experience."
Ezra: "I'm somewhat of a certification skeptic myself. The two certifications I care about are the Salesforce Admin and Technical Architect."
How does the role of an architect evolve as a company grows?
You'll likely start with one or two Architects that operate like ticket takers. Eventually, someone will see the value of these highly skilled individuals that know your system inside and out. At this point, these individuals are elevated to a more traditional Architect role and provide guidance on what needs to be done to reach growth targets.
During Brian's time at Toast, the company grew, took on new challenges, and went public. As a result, employees adopted a new, longer-term mindset. He recommends encouraging this same mindset in your own organization. When everyone has a long-term vision you're going to future proof your business much more effectively.
Similarly, the team at BigCommerce is also growing quickly. Due to this growth, Ezra's team is quickly moving from managing stakeholder expectations to a productive back and forth with leadership. This larger team also changes the responsibilities of certain roles. Employees in specialized positions now complete tasks previously assigned to Salesforce Architects.
What changes when you bring on a Salesforce Architect?
The Salesforce Architect plays a critical role in the overall business strategy. Architects must design business units to meet today's needs while planning what these same units will look like years down the line. For this reason, it's important Architects have visibility into the strategic roadmap.
A good Architect communicates why certain actions are important, even to a junior team. This elevates the entire team. "When you empower order takers to push back, everyone benefits." Architects explain the business value of governance and how it supports business growth. They sell leadership on the speed and agility of proper governance.
The mindset changes from "what" you're doing to "How" and "Why" you're doing it. Ezra reiterates a point Brian made: "There's never time to do things right, there's always time to do it over." The Architect is the one that helps the company do things correctly.
Should an Architect be the owner of the Roadmap?
Architects play a huge role in driving the roadmap forward, but are they involved in the planning process? At BigCommerce, Architects create a roadmap proposal for leadership to accept or reject specific elements. Rapid7 works with a co-ownership of the roadmap. An architect could just as well be the sole owner of the roadmap. This is the case at PTC where Brian owns his roadmap but collaborates with other stakeholders.
When is the right time to bring on an Architect?
Each panelist has a different standpoint on how teams should think about bringing an Architect in-house. What they all agree on is that you should start thinking like an Architect as soon as possible.
Ezra at BigCommerce with 1000 employees believes in a "turning the knob" mindset. When you have trouble documenting or find that you're constantly fixing processes instead of building new ones, you should "turn the knob." Each time this occurs, think more like an Architect. Once you "turn the knob" to a certain point, it's time to bring someone in-house.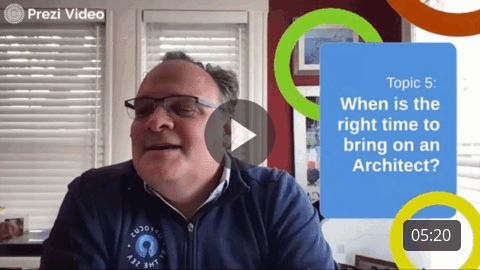 Alternatively, Amber at Rapid7 with 2000 employees believes when your organization sees the current pattern isn't working or doesn't scale; it's time to bring on an Architect. At this point, you need to think bigger picture and longer term. An Architect empowers you to think longer-term.
For Brian at PTC with 7000 employees, it's important to think long term immediately. If doing this requires a level of expertise you don't have on hand, that's when you need to bring in an Architect. Creating this mindset or having someone in this role enables your team to be responsive to change.
Bringing on a Salesforce Architect is a matter of when, not if. Now that you know the Architect's role in scaling operations, how they fit into your existing team, and when to consider bringing one in-house you may still have specific questions about scaling your team. Our in-house Salesforce Architect sat down and answered questions from your fellow RevOps leaders. You're likely asking some of these same questions. If you have the answers you need and you're on a tight deadline, get started on your project right away. My team's deep roster of platform veterans is ready to take your business to the next level!