Working at OpFocus
At OpFocus, we seek the win-win, for both our clients and ourselves. We enjoy an environment of constant learning, knowledge-sharing, frequent communication, and collaboration whenever possible. New training opportunities abound in-house and beyond, and new certifications are rewarded.
Core Values
Our core values drive all of our important decisions, and they are our guiding light.
People First
We treat others as they'd prefer to be treated. We try to understand different views and acknowledge that circumstances may be different for everyone.
Ownership
We are not afraid of a challenge. If things get tough, we rise to the occasion and shine. Clients and partners can count on us to think about their goals and get the job done.
Win-Win
We find the win-win and ensure that no party comes out on the losing end of a difficult decision. We value the goals & needs of our clients, partners, and team members.
Excellence through Education
We continually educate our clients and ourselves through thought-leadership. We achieve and maintain certification credentials, and share this expertise with the world.
Growth
We help our clients scale their operations to meet their growth goals. We are mindful in OpFocus' growth. We invite our clients and team members to work toward SaaS RevOps excellence together.
We are a happy, kind, honest, low-ego bunch with a can-do attitude.

We value everyone's opinions equally and especially love folks who also challenge the status quo and have recommendations on how to improve.

We strive for excellence, not perfection.

We are very action-oriented and are always driving things forward.

We are determined to add value in every interaction we have.

We promote work-life integration, and we encourage employees to live a lifestyle of health, fun, and wellness.
Traits to Be Successful
at OpFocus
Passionate and Energetic: Do you have boundless energy, passion for what you do, and continually push yourself to new heights?
Optimistic, Glass-Half-Full Attitude: Are you always looking at the bright side of life, even if things get tough?
There Are No Problems, Only Opportunities: Do you see problems as nothing more than opportunities to succeed?
Inquisitive Problem-Solver: Do you like to dissect a challenge and come up with sustainable solutions?
Team-First Mentality: Are you collaborative and supportive? Is your first thought when working with a team how you can help and contribute for the greater good?
High Emotional Intelligence: Do you stay calm under pressure? Can you handle and give feedback well?
Clear and transparent career path mapping, including tools to track development and progress toward growth targets

Work from anywhere

Medical, dental, disability insurance, life insurance, and 401(k) options.

Unlimited vacation days, ten sick days, and ten paid company holidays

A Sabbatical Program offering three weeks of paid vacation time, plus a $1,000 bonus for every five years of continuous full-time employment

Rewards for obtaining essential certifications

Paid first time exam and maintenance fees
We're Hiring – How to Apply
Many of our roles are open to remote full-time, part-time and contractor candidates residing in the US or Canada. See below for current openings.
We are always looking for the best, and if you feel that is you, we invite you to submit your resume directly to us by emailing careers@opfocus.com.
Please include the role you are submitting for, why you feel you are the best fit, and something interesting you'd like to share about yourself, such as a hobby or passion.
Candidate Journey
At OpFocus we strive to provide transparency throughout the hiring process. The Candidate Journey infographic provides an illustration of what to expect along the journey of joining the OpFocus family! More detailed information will be made available once the process begins. Please familiarize yourself with the Candidate Journey process after submitting your resume.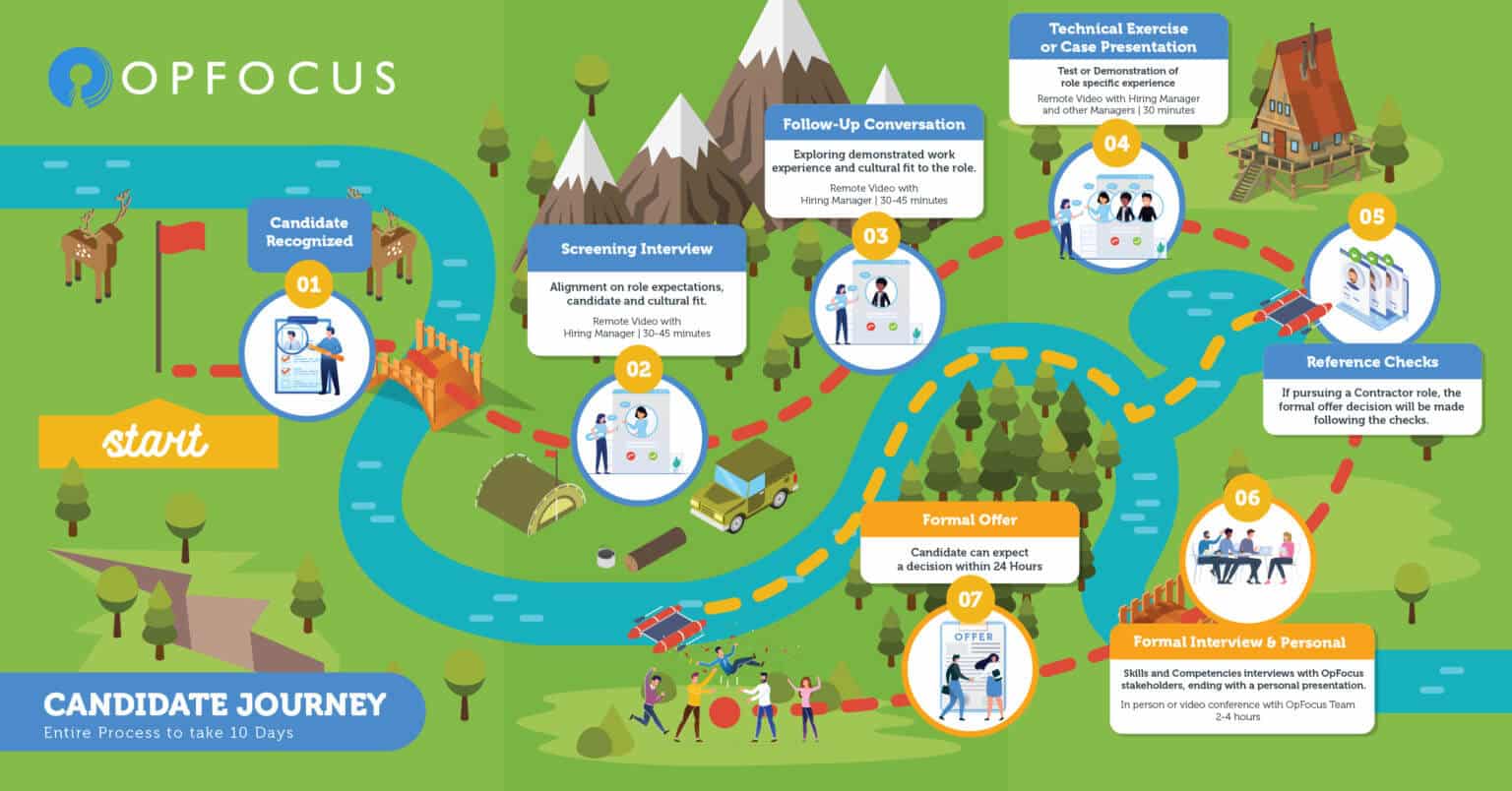 Commitment to Diversity & Inclusion
At OpFocus, we celebrate diversity, are committed to creating an all-inclusive environment and we thrive on it.
OpFocus is proud to be an Equal Opportunity Employer.