Sales Operations Dashboard: 5 Useful Dashboards Reports and Hints
"Sales success comes after you stretch yourself past your limits on a daily basis." – Omar Periu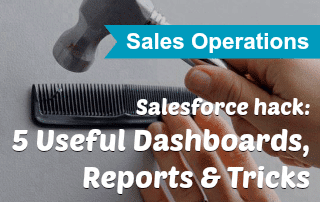 How do we know what our limits are and what is expected of us on a daily basis? Sales Reps are a special breed of individuals, with a certain personality and drive, that make them successful at their jobs. The best Reps come in every day motivated to top their best numbers and crush their quota. With most companies, deals are closed over the phone and through email. For the most part, a company is successful based on the numbers generated from these individuals. It's a simple concept: the more calls made, the better the chance of closing one of those deals.
Wouldn't it be great to have even more visibility into the metrics involved with closing a deal? For example, how many calls/emails does it require to close an average deal? Similarly, how active are your sales reps? Are they putting in work required to close a deal?
One of the first questions I get with new customers is, "What types of Reports should be included in Dashboards? Do you have any examples?" Obviously, this varies a bit between companies, but here are some of the Dashboards and components I have found most useful.
1. I like to begin creating a Dashboard with a few Metric Components on the top row – to give perspective

(Wouldn't it be nice if we had no Lost Opportunities?)
2. Create a Dashboard where each underlying Report is filtered by "My Opportunities" or "My Activities" so that each Rep has their own Dashboard

Note: The use of gas gauges is a great way to track quotas and make sure that each Rep reaches his or her goals
3. Use Components to show both the visual representation and actual data behind the Reports. Combining Tables with Charts is a great way of accomplishing this: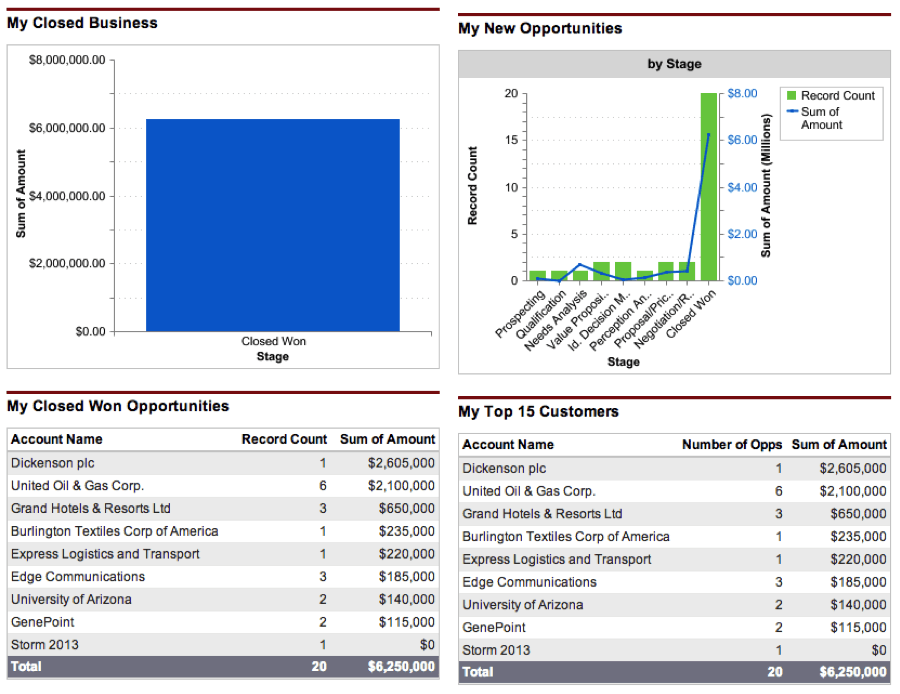 4. Keep a separate Executive Dashboard to track: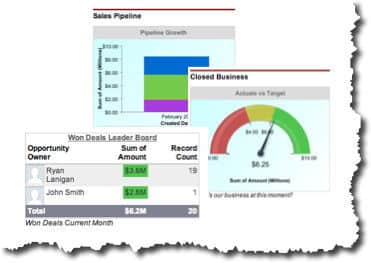 Pipeline – by month created and type
Pipeline closing in the next 90 days
Top 10 Deals including

Closed Opportunities
Open Opportunities
Lost Opportunities

Closed Business

Gas Gauge to track status

Closed Deals – Trend

Closed Business Leader Board
Activities

Most Active Reps
By tracking these methods and separating Dashboards, Reps gain visibility into the metrics that matter most to them, and Managers can track their Reps to make sure they are working hard!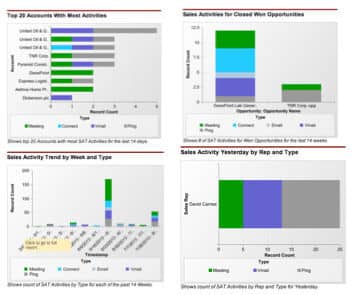 5. Once we have the simple Reports and Dashboard components down, we can begin creating more complex components to track Averages:
Activity Required for Closed Won Opps

Average # of Attempts be Connect/Meeting

Sales Activity by Rep and Type
Sales Activity by Week and Type
Sales Activity Trending by Rep
Top Accounts w/ Most Activity
Please note that each of these Reports is driven by data gathered from the Sales Activity Tracker.
Leveraging the power of Dashboards and components can be very useful to Sales Managers and Executives. It provides the visibility necessary to better understanding your Sales Process and becoming a more effective selling team. Capturing the data is the first step in the right direction, then analyzing and understanding the data is where the true value is gained.
For further information on Best Practices for Dashboard, please refer to David's great Reports & Dashboards workshop.