Strengthening Marketing & Sales – Everything You Need To Know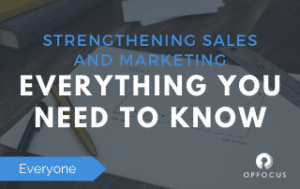 As clients navigated the demands of rapidly adapting in an unprecedented and destabilizing 1H 2020, our team was impressed with how the processes & technological foundations OpFocus had helped establish empowered companies to respond faster and make smarter decisions. The revenue operations initiatives that OpFocus led helped ensure that marketing and sales teams were in lockstep to make changes quickly based on data they could trust.
In the spirit of giving back to the SaaS community and building resilience to weather the storms ahead, we asked our team to share their top resources & advice on strengthening marketing & sales teams so they're ready for whatever challenges lay ahead. Below are some of our top picks.
First up is the Demand Unit Waterfall. Since launching in 2017, this framework from SiriusDecisions has helped guide the modern B2B SaaS company in aligning their marketing, sales, and customer success functions around the central concept of the customer account. Finally, the means of measuring marketing effectiveness and qualifying demand for sales reflects what companies have been trying to do for years.
What is the Demand Unit Waterfall? Our SVP of Technology, MJ Kahn, outlines the key components of this model, and why your team should consider its key components even if you're not ready to adopt the model across the board yet. Discover what the DUW is and how it will bring your marketing operations to the next level.

Discover why more teams are moving away from the traditional lead-based model to one that focuses on accounts and contacts. Learn the advantages of an account-centric database structure and how to go about implementing a hybrid model. Join the industry leaders that have ditched the Lead object!

Learn how RainFocus, an event marketing platform, achieved 135% Contracted Annual Recurring Revenue (CARR) growth in 2019 and 140% net customer retention by adopting the Demand Unit Waterfall. As one of many transformations that OpFocus has led, RainFocus' example highlights the resiliency of an aligned marketing & sales funnel, even amidst a pandemic.

During a presentation to a select group of high-growth SaaS teams, Natalia Kochem, Director of OpFocus' SaaS Growth Advisory, answered questions on the effort and process that goes into adopting an account-centric marketing & sales approach. We've compiled the top 5 audience questions and summarized our suggestions, including whether to ditch the Leads object, how many Accounts to target, and how to measure Account and Opportunity velocity.

if you're reading this in the month of August, you have the chance to take part in an upcoming Ask Me Anything. Our Director of SaaS Growth Advisory Practice, Natalia Kochem, is answering any questions you have on the strategy around revenue operations or account-based marketing. Bring your burning questions!