Salesforce Social Contacts – Your Sales Team's Secret Weapon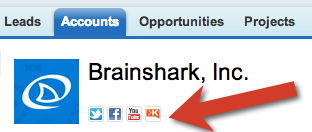 A secret weapon for your sales and account management teams is Salesforce.com's Social Contact buttons. They allow you to quickly pull up YouTube videos, LinkedIn photos, Facebook posts, Klout scores and Twitter feeds while looking at Leads, Accounts, and Contacts in your system. Prior to following up with a lead recently, I used these links to discover that the person had delivered a key note the week before (which was posted to YouTube), and had posted something about a family trip on Twitter. What a different call we had because of my ability to quickly find relevant content online with these tools!
To enable Social Contacts within your Salesforce.com system, a System Administrator can simply click on Setup/Customize/Social Accounts and Contacts/Settings and check the appropriate boxes. Once the entire feature is enabled, you can choose between:
LinkedIn – Available on Leads, Person Accounts, Contacts – If you are connected with the person on LinkedIn you can choose to display their Profile photo on the record in Salesforce, and see Title and Company Name. Contrary to expectation, this is the weakest of the buttons.
Twitter – Available on Leads, Accounts, Contacts – Quickly search for and view Twitter profiles and feeds for your Accounts.
Facebook – Available on Leads, Person Accounts, Contacts – If you are connected on Facebook, allows feeds to see their Profiles, status updates, and mutual friends. Similar to LinkedIn, the information displayed to a User is dependent upon that User's Facebook relationship with the person.
YouTube – Available on Leads, Accounts, Contacts – Allows users to search for YouTube videos by the record name.
Klout – Available on Leads, Accounts, Contacts – Gauge influence across social networks (requires Twitter).
Sadly, LinkedIn is the least useful of the bunch, until you pony up significant cash for their content. Unless photos are a big deal for you, it's just not all that useful. A cool workaround for giving your users quick access to LinkedIn data is to create a Custom Button which passes the Lead or Contact's first name, last name and company name to the search results page in LinkedIn.
Each user can entirely omit or selectively shutdown these social features for themselves under Setup/My Social Accounts and Contacts/Settings. The most logical explanation for self selected disabling of these tools by users is curbing their own addictions…. such as if you have employees who can't stop checking Facebook while at work.
If your reps and account managers aren't using them, perhaps its time to give them a secret weapon in their sales efforts! With set up of this feature taking only seconds, if in fact it is not already enabled, the real effort in the rollout is reinforcement through training your Users.