Salesforce Admin Enhancements – Teaching Old Dogs New Tricks

If you've been tinkering with Salesforce.com systems for a lot of years, you may have become set in your ways- be it how you navigate within Setup, monitor your org, or learn more about the platform. In this post I thought to share a few of the modern conveniences that have popped up in recent releases to make our lives as admins better. Try them out – and better yet, let us know if you have others to share!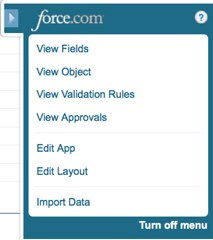 Force.com Quick Access Menu
While looking at a record, occasionally you'll see something that should be fixed on the Page Layout. Rather than having to click on Setup/Customization and drill down to the correct Page Layout for that Object, you can simply expand the Force.com Quick Access Menu and select the Edit Layout link. Once you've made and saved your change, you'll be brought directly back to the original record, and can see your change live. This feature is available to all Users whose Profile gives them the Customize Application setting. And believe it or not, there are keyboard shortcuts so you can activate menu options without moving your mouse! Individual Users can turn the menu on and off through their Personal Information settings. One suggestion for improvement would be to drop the Import Data link for Enterprise and Unlimited Editions systems.
Force.com Home page
Talk about a total overhaul- when we used to click on Setup we were brought to a fairly useless page with the only good stuff, the links to App and Admin Setup, tucked away on the left. No longer… the Force.com Home page now boasts a lot of useful sections, including a system overview, recent items, community notes, and useful resources. For example it warms my heart to see that we're using all 25 of our Custom Tab allotment… and how to buy more. To get to the Force.com Home page, simply go into Setup.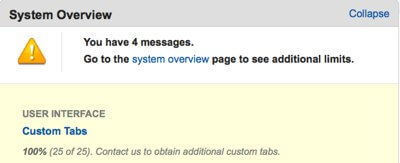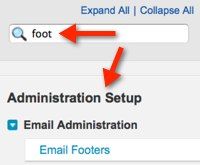 Quick Find
This small search tool at the top left of the Force.com Home page is a great way to dig down within Setup to find specific settings across Personal Setup, App Setup, and Administration Setup. New admins tend to groan when they realize that the settings aren't alphabetized, while old admins simply shrug. This search box cuts to the chase by displaying matching settings as you type. An enhancement we'd love to see would be if it allowed you to search for specific fields or objects within that Salesforce org.
Object Limits
The Limits pages within each object's settings are useful for figuring out what has been used or not used, and how close you are to the governor limits. For example, since we're only allowed 10 Rollup Summary Fields per object, you may want to know if any are in use on an object. To get to the page for an Object, simply go to that object under Setup/Customize or Setup/Create/Objects.

What other modern admin conveniences do you enjoy? Please share your thoughts in the comments.
Photo credit: howtodothings.com