Multiple Currencies: Part II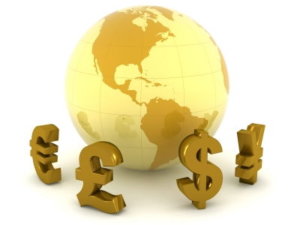 This is a continuation of a two part series on Multiple Currencies.
After Joe's journey with Multiple Currencies, during which he was continually disappointed, he told his VP of Sales, Bob, that he didn't think it was worth it to implement Multiple Currencies. Bob assured him that his work was not for nothing and that they would take a look together.
Well it took just about forever to get a time slot with Bob but eventually the two, Joe the Admin and Bob the VP, sat down to view what Joe had set up in their Sandbox.
They started by looking at an Opportunities List View to see how Minnie Mouse, a Sales Rep, might be able to view her deals.
From Minnie's Login, Joe and Bob see that Minnie can view each Opportunity and its Amount in different currencies. When Minnie clicks on a particular Opp, she is able to view the native Currency as well as how it is converted into her own:

"Okay, that's kind of nice, but I bet you could implement that yourself, right Joe?"
Joe kind of frowns but agrees that he could probably implement some formula field to do those calculations. It would be really arduous to change all of those formulas… but he could.
Job security, I guess.
Joe and Bob then move onto Forecasting. They jump to Minnie's forecast as well. First they view her forecast in Joe's currency, USD.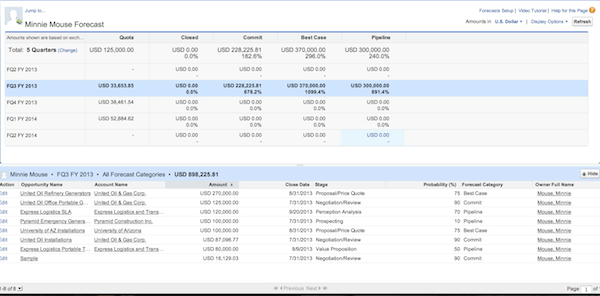 However, seeing as Minnie's territory is in Canada and forecasts and operates in CAD, they change the Forecast display to CAD.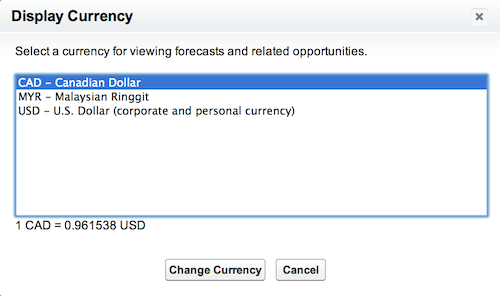 "That's pretty cool," says Bob. "But again, that's probably just something that you can do to the Forecasts anyway right?"
Joe sighs, "no, actually that's part of the Multiple Currencies functionality."
Bob sort of gruffs and they continue along to the Reports tab.
Joe had previously built a report on Quotas, Forecasts, and Opportunities. It showed this information sorted by Quarter, Forecast Category, and Rep. To this report, he added the "Converted" Amount fields in the appropriate places instead so that Joe and Bob could view everything in USD but still see the Opportunity's currency if they needed to.
First, he showed Bob the Report with just the high level information.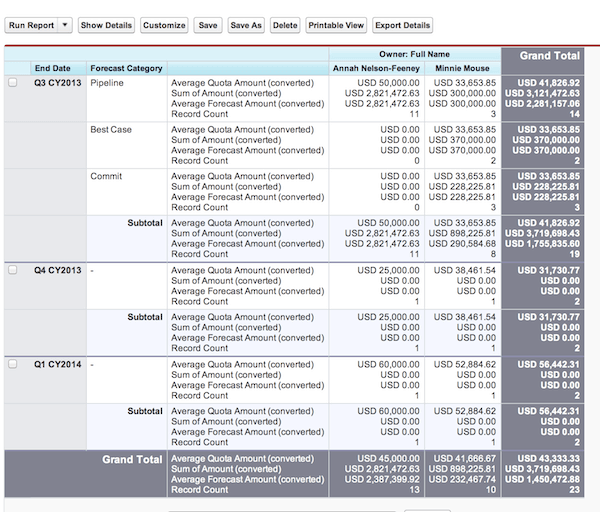 Then he opted to show him the same report with the Opportunity details.

"Wow, Joe, that looks great… so why again were we not interested in this?" Bob couldn't seem to remember all the heartache that poor Joe went through a few weeks prior.
Joe started, "well if we use this, some poor Administrator is going to have to create new prices for every Product in each price book and then update them each time the Conversion rates change."
Bob thought that maybe Joe was just feeling sorry for himself. Joe sensed this and continued. "Additionally," he said, "you know those Roll Ups of the Total $ to date on each Account?"
Bob replies, "Yes,"
"Well, in order to have exchange rates that only apply to certain periods of time, we couldn't use those Roll Ups. On the other hand, if we didn't use the dated exchange rates, the $ Amount that is logged by the Services Teams for their POC installs would change all the time whenever we changed the exchange rates."
"Well that's ridiculous. Can't you change that?"
"No."
"And you can't just create this with some sort of custom stuff, can you?"
"Well, someone who is skilled with Salesforce and who is a developer probably can."
So Joe and Bob decided to throw in the towel on Multiple Currencies and seek outside resources to help them implement something custom instead. They also refreshed their Sandbox because they wanted to, or rather Joe wanted to, forget about all the time spent implementing Multiple Currencies.