How to Deal With Inactive Contacts in Salesforce.com

Out of the box, Salesforce.com does not give us a way to flag Leads or Contacts as inactive, as ones that we should not market to or call any longer. Because we look to maintain accurate Account history and Campaign reporting, when a person leaves their company we don't recommend deleting their Contact record or changing the Account that the Contact is associated with. Instead we suggest adding a checkbox called "Left Company" to the top right corner of your Lead and Contact Layouts.
This allows you to:
Add a filter to all marketing list Reports to exclude Leads or Contacts that have left their companies from new marketing initiatives
Use filters in Lead or Contact Views to focus on people who haven't left
Add the Left Company field to the Search Page Layouts for Contacts and Leads so that your Users can quickly identify who's gone
Edit the Account Page Layout's Contact Related List to be reverse sorted on the Left Company field (Ascending), so that people who have left fall to the bottom of the list (see screenshot below)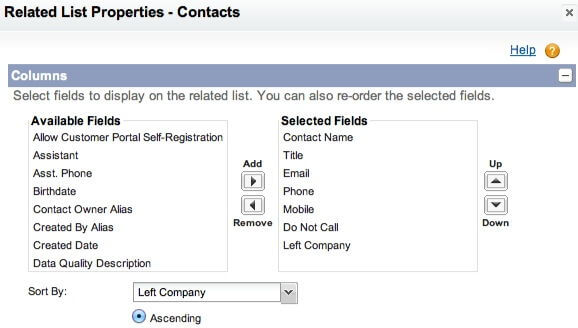 We work with a lot of companies that have had Salesforce.com for five, six, seven or more years. This leads to a sizable amount of long gone Lead and Contact crud that builds up in the database, without a great way of dealing with it. When introducing a Left Company field, be sure to train your Users, explaining the overall benefit to the company (and to themselves) in flagging those who have moved on. Marketing will no longer waste their budget, and Sales won't waste their breath!