How to Care for Kids as a Work from Home Parent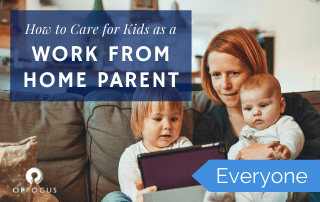 If you're a work-from-home parent during this COVID-19 situation, you've come to realize a very uncomfortable fact: your children are also now your coworkers for the foreseeable future.
After 20+ years of working and 18 years of being a mom, I've developed several strategies for working remotely with young children and teenagers at home.
I wanted to share my experience to help other work from home parents manage both work and home during this situation. I also want to help you avoid this work-from-home parent's unexpected surprise while video conferencing: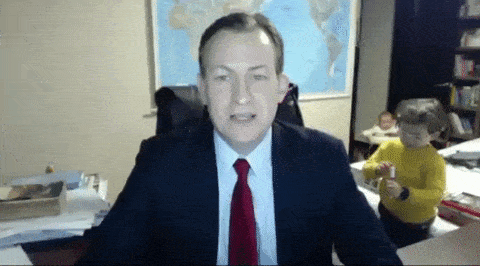 If you have young children at home
Be reasonable with yourself and your children. They are not going to sit still while you are on 8 hours of conference calls. Let those you are working with know that you will have limitations, you are doing your best, and you appreciate their understanding in these unprecedented times. Schedule your most critical calls/discussions/work tasks for times when your child will nap, or when they can be occupied without your direct oversight.
Mute yourself while you are not talking on a call. This will cut down on background noise for others, and you will not have to tell your children to be quiet as much. After all, it is natural for your children to want to talk to you when they see you.
Plan ahead. Prep food and snacks for your children and yourself to make your day easier. Plan in frequent breaks that mimic the same schedule your child has during the day. This is very important if you have a younger child, especially if they are used to a very rigid schedule. Your day will run smoother.
Never sacrifice the safety of your children. Plan for a place where you can see your child and find activities that are safe for them to do while you are at your computer. For example, they could color while you are typing, but it may not be wise for them to use scissors while you are on a conference call.
Ask for help from your immediate family. The saying, "it takes a village…" came from truth. And be easy on yourself as a work-from-home parent. You can't expect that you will do things exactly the way you would at the office when you are doing things at home and taking care of small children as well. You can only do your best.
If you have teenagers at home
Share your schedule. Explain that you will need quiet time and quiet areas, and that you will give them time and areas to do their thing as well. If you feel they can handle sleeping in without causing issues to their schedule when they go back to school, this can give you both time to yourselves.
Make time to connect. Allow your teenagers to have a safe place to talk with you about the news. Or they may just want a safe place that is FREE of all of the COVID talk — someplace that feels normal and comfortable — and that's okay too.
Two separate wifi networks. At my house, we have two different wifi connections set up: one for the adults for work, and one for gaming. Kids connect to the gaming wifi and it has lower priority than the wifi for working adults. If you are good at this stuff, I would suggest setting this up.
Explore online learning. Help your teenager stay productive and make the most of their time at home. Check out Khan Academy. Learn to code. Get an Ivy League education — for free. If they're being productive, it helps you be productive as a work-from-home parent — and now we're thinking win-win.
###
My final tip: appreciate this time together. Whether you have young children or teenagers, the silver lining is that your family is spending more time at home together.
Who knows if this situation is temporary, or the new normal? But I do know we only have so much time with our children before they fly off to start their own careers and families.
And I hope that, years from now, we can all look back and smile. And your kids can say to you, "Remember that time we were coworkers?"
Are you a work-from-home parent? Let us know your strategies for caring for children and teenagers as a work from home parent in the comments below!
Also, check out our companion post on the top 5 ways for staying productive, engaged, and focused during these crazy times.