Compliments Get Competitive: How OpFocus Creates a Culture of Feedback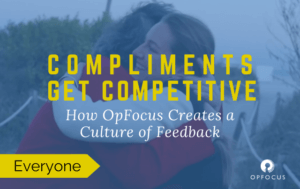 At OpFocus, we're hyper-focused on helping our clients slay the growth dragon, overcome obstacles, and achieve their ambitious goals. To do this, we give each other a ton of feedback, be that at the end of each meeting, mid-project, or during our quarterly reviews. We find this helps us deliver world-class service for clients, and helps each of us improve as professionals. It's not only constructive feedback, though. We share compliments for each other through public shout-outs during team meetings and company-wide "happy flashes" through Slack and email. This helps strengthen our company culture around our first Core Value, People First.
At this year's team retreat in Miami, we organized our first ever "Compliment Off." Inspired by this BuzzFeed video from the Try Guys, we paired people up and organized them into March Madness-style brackets, to see who could give the best compliments!
As team members slung their best compliments at each other, they touched on some of the values we look for in team members and clients alike — putting people first, choosing a positive attitude through speed bumps & roadblocks, bringing passion to our work, and striving to add value in every interaction through our operations knowledge.
1) People First
We look for People First in our team, our candidates, and our partnerships with clients & partners. Our experts see ourselves as an extension of your teams, working shoulder-to-shoulder to predict challenges and prescribe solutions for your growth challenges, so you can focus on growing your business.
2) Positive Attitude
Everyone mentioned how positive their colleagues are, which came as no surprise. We choose to see opportunity and face challenges head-on. Whether it's diving headfirst into a hairy systems architecture problem, mission-critical growth initiative, or training your team to self-sufficiency, we're excited to get to work.
3) Passionate
Our mission at OpFocus is to "Inspire & Enable Excellence in SaaS Operations." We are laser-focused on this goal, and strive to bring it to every interaction with our clients.
The OpFocus team is all about partnering with clients to solve complex business problems. These clients share their experience on the benefits of having one of the most committed, professional, and motivated teams of business growth experts in their corner.
4) Knowledgeable
Almost everyone on our team holds multiple certifications and years of operations experience. From company executives to analysts, OpFocus' team boasts of some of the most knowledgeable, accredited professionals in the Salesforce ecosystem. When you encounter a business problem, we're ready to jump in and help out with our bench of specialized professionals. Our team specializes in supporting your team with business process optimization, development, CPQ, and marketing operations.
And the Winner Is…..
Well, YOU, as our client! We make every decision at OpFocus with the needs of fast-growing SaaS companies in mind. We're ready to help you become more efficient, more effective, and more resilient as you shoot for the stars. Let's take the bull by the horns to work together with you and get. it. done.
What are some of the best traits you've experienced in your OpFocus project team? Please share them with us below!
Not a client, but ready to work with a team that's 100% comprised of driven, knowledgeable, and passionate individuals? Let us know how we can help you reach your growth goals! It's time to get down to problem-solving.