5 Cool Salesforce Summer '14 Upgrades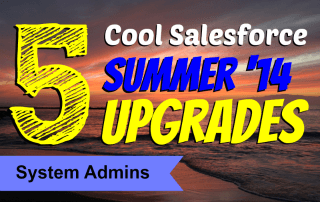 Summer '14 has arrived, and it's time to unpack the 338 pages of release notes! The Summer '14 release is loaded with new features and new upgrades to the existing functionality within Salesforce. In this blog post, we will be looking at five of the areas where new features and upgrades were implemented with the new release.
First, before we get any deeper, if the Salesforce Notification Banner isn't adding any value to your Salesforce org, turn it off!

1. From Setup, click Customize | User Interface
2. Deselect Enable Salesforce Notification Banner
3. Click Save
1. Chatter Files

Wondering whether you have the latest version of the sales presentation? Worried about accessing a file from your desktop, your mobile device, or your laptop on the road? Chatter Files has several feature upgrades:
Store, sync, and share files between Chatter, their desktops, and mobile devices
Sync Owned Files Directly from Feed Posts, Comments, File Lists, and File Detail Pages
Run File and Content Reports from the File Detail Page to show how many times a file has been downloaded, shared, liked, and commented upon
Install the Salesforce Files desktop client, and store files up to 500 MB, with a 10 GB limit.
2. Salesforce for Outlook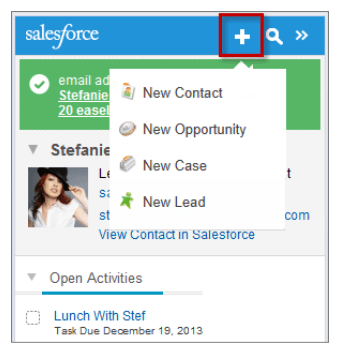 Given the recent announcement of Microsoft and Salesforce.com's global, strategic partnership, it's no surprise that Salesforce for Outlook has finally been upgraded to work with Outlook 365. In addition, not only can different users be assigned different publisher menus, but Salesforce for Outlook is available in Contact Manager and Group editions. Users can also download Salesforce for Outlook without administrative support.
Now there's no excuse not to have everything important in Salesforce when it's so easy to use Outlook and Salesforce literally side-by-side-panel:
Create not only Cases, but also Accounts, Contacts, Leads, Opportunities, and custom Object records
View Salesforce Contacts and Leads related to emails in users' Outlook Inboxes
View Salesforce Activities, Opportunities, and Cases associated to those Contacts and Leads
3. Sales Cloud
The Sales Cloud continues to expand with more powerful Opportunity Splits, customizable Pricebook Entries, and a pilot of Forecasting on custom Opportunity fields.
Opportunity Splits
Enhancements on Opportunity splits include complete customization of Opportunity splits, custom split types, and Opportunity split details in Forecasts.
Customize splits with custom fields, validation rules, triggers, and different page layouts
Split types can be based on most Opportunity currency fields (except formula fields), e.g., the standard expected revenue field, or a custom profit field
View splits on Opportunities directly in any splits-based Forecast by clicking the pie chart icon in the split column

Pricebook Entries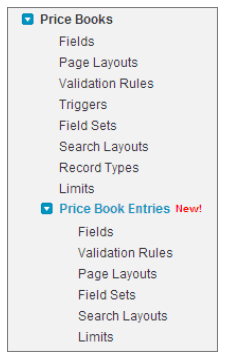 With the addition of customizable Pricebook Entries, all three elements of adding Products to Opportunities are at our fingertips!
Store an external ID on the Pricebook Entry record for easier integration
Create custom fields for storing start and end dates or drive calculated pricing
Use validation rules for better data quality
Pricebook Entry page layouts
Forecasting on custom Opportunity fields (Pilot)
Just to make sure we're looking forward to the next release, there is a pilot for Forecasting on custom Opportunity fields. Forecast on any custom field such as Margin, Monthly Recurring Revenue, Annual Contract Value, or any other currency field. In the example below from the Summer '14 Release Notes, the Forecast is based upon and named after a custom Opportunity field called 'Annual Contract Value.'

4. Service Cloud
Service cloud has some nice features for Email-to-Case, LiveAgent, Entitlements, and the Service Cloud Console.
Receive Larger Emails with on-demand Email-to-Case with up to 25MB of attachments (individual attachments can't be larger than 10MB), and up to 132K characters from 32K characters (contact Salesforce.com Support to increase this limit)
Transfer Files during a chat and transfer chats to a chat button queue
Entitlements can now be deployed via change set
Add the Milestone Tracker as a Salesforce Service Cloud Console Component
Related Lists as Console Components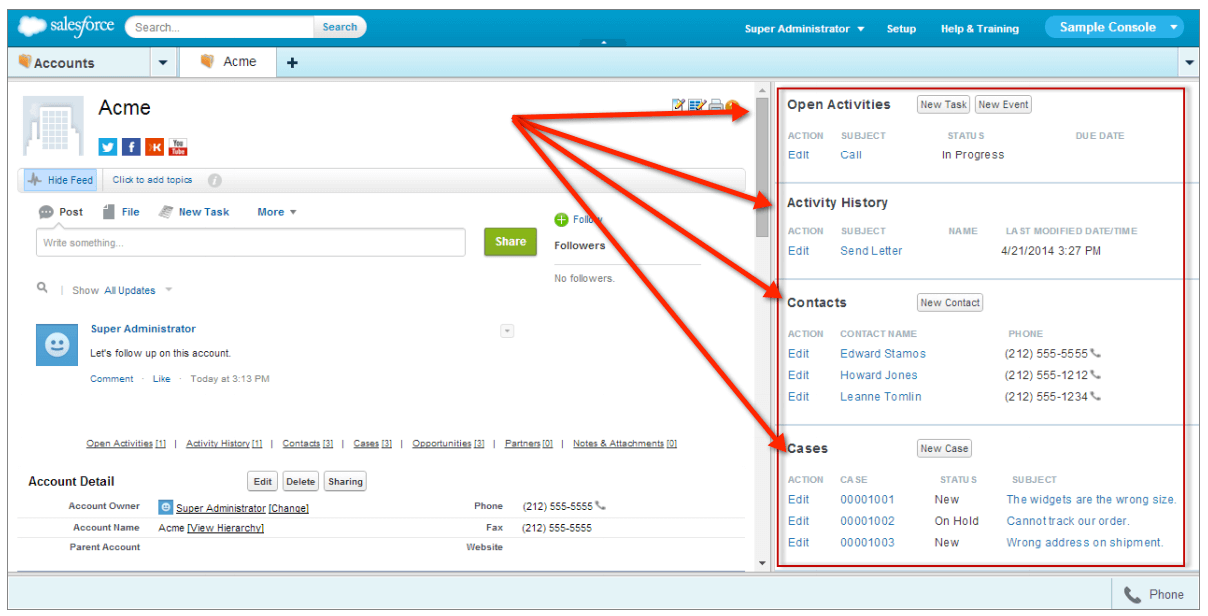 5. Analytics
There is nothing earth shattering for analytics in Summer '14, but Forecasting receives a nice enhancement, as well as Report folder management getting upgrades too.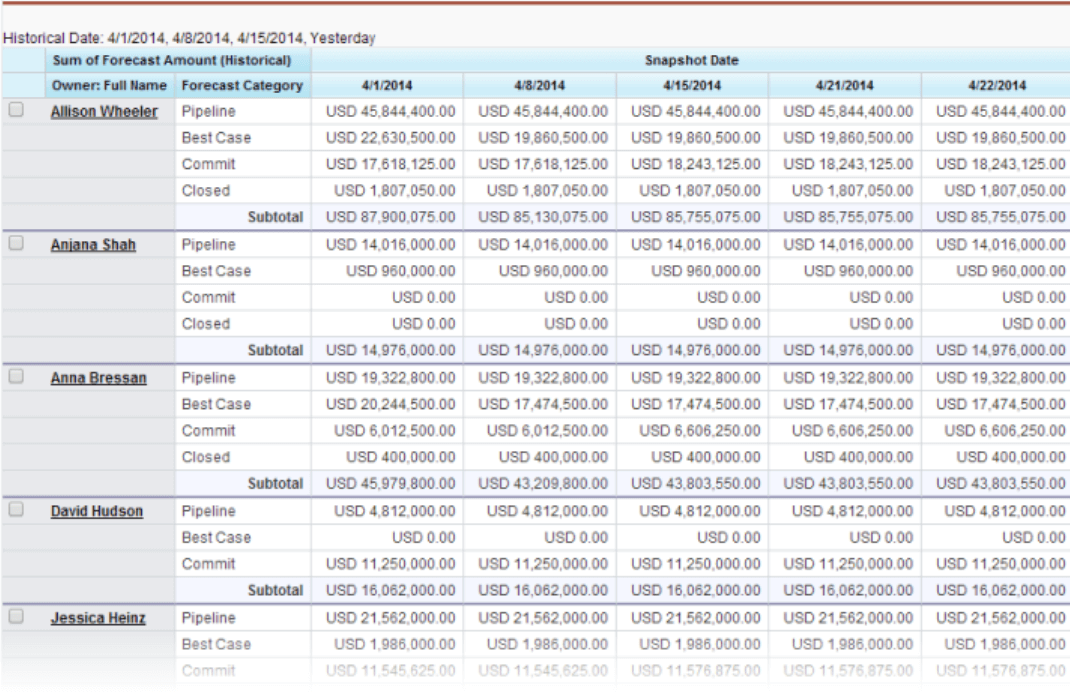 How well is your sales organization forecasting? With Forecast Historical Trending, we can look at Forecasts for different periods to see changes over time.
Users can now delete multiple Reports at once, as well as pin their most used Report and Dashboard folders to the top of the list.
[tagline_box backgroundcolor="" shadow="yes" shadowopacity="0.1″ border="1px" bordercolor="" highlightposition="left" link="https://opfocus.com/contact-us" linktarget="_self" buttoncolor="blue" button="Contact Us" title="Need more Salesforce expertise? Our team of certified consultants is ready to help!" animation_type="slide" animation_direction="left" animation_speed="0.7″][/tagline_box]
Picture Credit: http://upload.wikimedia.org/wikipedia/commons/1/19/Fanabe_beach_sunset.jpg