3 GREAT Salesforce Features You Can Set up in Minutes
We use the following three Salesforce.com features all day long. They take only minutes to set up- and will make your users more productive and satisfied with the system.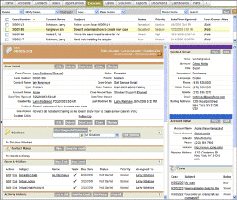 Agent Console (a.k.a. the Console tab)
It continually disappoints me to see how few Salesforce customers even know this gem exists. The Agent Console uses "frames" in your browser to combine in one screen a list of records (ie My Active Pipeline), a full page layout for the currently selected record, and a smaller related record. It takes only a few minutes to set up, and will make your hard core SFDC users lives easier by reducing clicks and allowing them to centralize their work. Our suggestion is to put the Console tab right next to the home tab, and combine it with some well thought out Views, expanded Mini Page Layouts, and use of Inline Editing. With individual Views created for each of their team members, middle and senior managers can also benefit by using the Console as a coaching tool.
Email to Salesforce
Email to Salesforce allows users to automatically attach emails sent for any email client to the respective Leads or Contacts in the system. Setup requires the checking of a single box by an admin behind the scenes to enable this for all of your users. The system then gives your users each a unique email address (such as emailtosalesforce@123abcxxxxxxxxxxx.in.salesforce.com) in their Personal Setup. This email address can be used to quickly copy outbound emails into Salesforce by simply BCCing the address. To make its use easier, we suggest creating a Contact in your email client called "SFDC" to allow quick BCC'ing of any relevant emails. Once sent, within seconds, the email is associated to the Lead or Contact via its email address, and visible under Activity History. Recent enhancements allow for file attachments and for the ability to exclude specified domains.
Mobile Lite
Imagine giving your field reps the ability to easily make a few extra calls while sitting at the airport, or pull up a name before entering a meeting. Mobile Lite gives your users FREE read-write access to their data in Salesforce.com. It allows for searches, edits and creation of Leads, Accounts, Contacts, Opportunities, Cases, Solutions and Dashboards- and provides for easy recording of Activities. Mobile Lite is another one-click wonder behind the scenes to set up. Once enabled by an admin in a system, individual users with the appropriate mobile devices can point their device's browser to http://www.salesforce.com/mobile/lite/ to download.