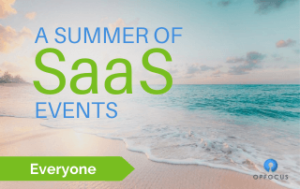 The summer of 2020 has been a bit different from summers in recent memory. Traditional in-person events simply weren't in the cards. However, this hasn't stopped the OpFocus team from safely interacting with the SaaS community. Over the past few months, we've invited you to take part in a series of virtual events and the community did not disappoint. We've had an amazing time getting to know you. Let's recap the events that took place during our summer of SaaS and explore some upcoming opportunities!
Our CEO, David Carnes, shared his experience helping sales & revenue operations leaders find clarity and forecasting visibility while navigating huge market changes, using Salesforce Reports and Dashboards. Discover the 7 Salesforce strategies that will save your team during times of crisis and provide the critical insights you need!
Considering how CPQ might help your team increase revenue? Our in-house expert and Director of CPQ Consulting, David Movsesian, answered the top questions from the SaaS community. He covers topics including how to migrate products, adjust pricing factors, and explain the ROI of CPQ to your team. Learn his insights!
For the first time, our annual Salesforce training course was held online. David Carnes shared his decades of experience around how to effectively prepare for your Salesforce Certified Administrator Exam using the same best practices OpFocus teaches it's own consultants. Learn about my experience, how the class is structured, and some of the topics covered in this week-long training course!
We invited you to ask our Sr. Vice President of Technology, MJ Kahn, your deepest, darkest questions about Salesforce development and integrations. Learn the answers to questions like when to build vs buy a solution, determining the right tool to use, and how to get started using Apex.
This Ask Me Anything featured Jim Parker, Senior Growth Advisor, SaaS Growth Advisory Practice, representing OpFocus' all-star strategy team, who's assisted with tech stack consolidation planning for dozens of companies. He answered your questions on assessing your current process, evaluating your needs, and how to get buy-in from both internal and external stakeholders.
OpFocus recently joined with the Sustena Group and SBI to form the RightStar Alliance. In its first-ever webinar, the RightStar founding members discussed GTM considerations for company mergers and acquisitions. Drawing on a deep collective experience partnering with over 50 PE firms, the panelists answered key questions related to maximizing the value of roll-ups.
Upcoming Events
As we look back at our summer of SaaS events, it's exciting to recall all the events that reduced the distance, even as we continue to work from home. As SaaS growth leaders, we're excited to continue sharing our knowledge with SaaS leaders. Please join us at some of our upcoming events!
In our 4th summer AMA, Natalia Kochem, the Director of our SaaS Growth Advisory Practice at OpFocus, will join us to answer all of your questions around elevating your marketing operations and strategy. We invite you to join the conversation and ask your toughest questions!