7 Strategies to Improve Sales Optics in Crisis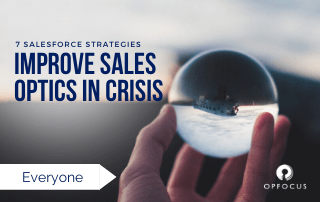 It's inevitable that crises will occur. When they do, they prove to be a big challenge for most businesses. You'll often be told to do more with less. You'll be asked to provide a strategic look into your business without the help of additional reporting resources. David Carnes outlined 7 scenarios and how to react to them with out-of-the-box Salesforce functionality that will provide the insights you're looking for and improve your sales optics in crisis.
Assessing Your Pipeline
The first and perhaps most important thing you'll want to do is assess your current pipeline. David recommends using Matrix Reports to provide a birds-eye view of your pipeline. By grouping the rows by Industry and columns by Stage you can quickly see your current pipeline. You can also group by your sales reps to understand how each rep's pipeline stacks up. Conditional Formatting enables you to highlight specific high and low marks within your dataset. After you've run a Matrix Report, you can click on numbers of interest in the grid to drill into to see the underlying deals in that Industry and Stage.
Staying on Top of Change
One of the most common questions we receive is around how to understand the change that's taken place in your business. Teams want to see how their performance compares to past months to understand the impact of the crisis. Some will look at a week to week comparison while others prefer to look at monthly totals. To set this up, select the "Enable Historical Trending" option. Doing this opens up a new Report Type that was not previously available. Select the Historical Trending option, then filter the data in order to see the desired comparison.
Predicting Sales Success

"Can we predict which salespeople have the best chance at making their number?" This is a question you're very likely to hear in times of crisis. To do so, you'll want to use Einstein Opportunity Scoring. This is a feature that's now enabled for all Salesforce Sales Cloud Users. Add a Bucket Column to a report allowing you to sort opportunities by Einstein Opportunity scoring. Looking at these scores provides a better understanding of which deals have the highest chance to close. Hover over the score to see Einstein's reason for the score. Seeing the likely performance of your sales team is also useful if you're placed in a situation where members must be furloughed or released. A free assessment tool within your Salesforce instance will help determine if Einstein Scoring is a good fit for your team.
Prioritize Sales Resources
If asked which pending deals to aim sales resources at, you might consider Joined Reports. These reports allow you to combine up to 5 reporting blocks side by side. Simply select the metrics that matter most to your team, then compare the data. One example is joining Won Opportunities, with Open Opportunities and Open Cases on the same Joined Report, grouped by Account Name. When your team needs to maximize its resources, this report enables you to allocate them with confidence.
Sales Trends
Your team will likely need to look at sales trends to understand how sales have changed year over year. To do so, create an Opportunities report then group it twice by Close Date. The outer grouping should be on Calendar Month in Year, and the inner grouping should be on Calendar Year (or Fiscal Year). Once completed, this report provides insight into your organization's month over month sales trends. Many companies quickly see a type of seasonality in their business with some months performing better than others.
A pipeline Snapshot is also an effective way to determine your pipeline health. This shows the total dollar value of deals in each stage at a given time. When looking at this report, you can determine both the total value of your pipeline and where deals reside when compared to other months. To create a pipeline Snapshot you'll need assistance from your System Administrator in completing the following steps:
Create a Source Report
Create Custom Object (requires appropriate permissions)
Define Reporting Snapshot (requires appropriate permissions)
Allow Time to Pass
Create Reports on Custom Object
Sales Cycle Impact
Creating a report on the sales cycle impact is another important step to understanding how the crisis is affecting your business. When looking at this type of reporting, it's helpful to do some plumbing that enables you to more accurately track sales changes. A member of the OpFocus team recently outlined how to do so, providing two ways of going about it. This is best done early so you can begin tracking this data as soon as possible.
Where are Deals Dying

Finally, the question on everyone's mind, "Where are deals dying?" Understanding where this is happening helps your team better address why it's happening. During the webinar, David outlines two ways you're able to go about this; using Opportunity History or Opportunity Field History.
The first option does not require any special work and is our recommended approach. To set this up, you'll want to create a custom report using the Opportunity History option. After setup, you'll see the percentage of deals dying at each stage. Filters can also be used to look at the specific data that matters to your team.
Final Thoughts
David wrapped the session up by mentioning that these are just a handful of Salesforce reports your team can use and some will likely be more appropriate than others. They'll provide a better understanding of your sales cycle and improve your sales optics in a crisis. You should also be able to determine the steps you'd like to consider to move forward. If it's time to improve your Salesforce expertise even further, consider taking some of David's upcoming training courses. David packed as much content as possible in the time he had but there is still much more he's ready to teach.