Top 5 questions on Account-Based Marketing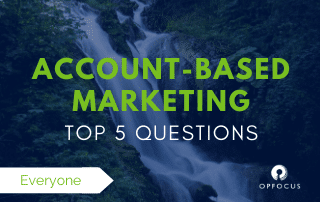 As revenue stabilizes in the new normal, many teams are turning to Account-Based Marketing as a way to more effectively target demand and close more deals. When implemented correctly, ABM can transform an organization and empower them to reach their growth goals with confidence.
Our very own Natalia Kochem, Director of SaaS Growth Advisory Practice, and Adrian Barek, VP of Partnerships, recently spoke about the power of the Demand Unit Waterfall for growth-minded SaaS companies. We've outlined the top 5 questions we received and provided answers based on years of working with revenue operations leaders.
#1 Are you suggesting that we abandon the Lead object and to convert all Leads into Contacts? For example, should we import ZoomInfo data as Contacts?
For targeted accounts, if an Account already exists in your system, go ahead and convert all Leads at that company into Contacts. If you don't have those Account records created in your system, you'll probably want to do some manual due diligence on non-targeted companies to see if they should become Accounts.
Many clients prefer to automate all conversion without any manual oversight. This requires having their system evaluate pre-determined criteria on its own, and then flagging Opportunities in error reports if a Lead didn't meet the criteria to create an Account. Others follow a hybrid model: they still use Leads so the BDR team can work them for non-targeted accounts. There is not a one size fit all, but specific companies may have needs that make one method more appropriate. If you're wondering which approach is right for you, leave a comment below or reach out to our team!
#2 Instead of abolishing Leads, can you score Opportunities and Accounts using an Account Lookup instead of using the Opportunity Contact Role?
There are ways to score activities at the Lead level, but it's not our recommended approach when moving to an Account-centric model. Each of those actions layers on top of one another, which can make reporting more difficult. We encourage your team to lean on the use of opportunity contact roles as much as possible.
Associating Contact Roles on the Opportunity record and tracking them is the best option. Let's recap some of our best practices:
Auto-converting Leads to Contacts for your matching Accounts
Creating Marketing-owned Opportunities
Assigning appropriate Contacts as Opportunity Contact Roles to these marketing Opportunities
Tracking marketing engagement of this group of Contacts at the Opportunity level
#3 What is the average number of target accounts your clients attract?
We've gotten this question many times before. It depends! This number has more to do with your target market. Some companies will only sell to a limited set of customers — an example is healthcare technology firms selling to the 500 hospitals in their known universe. A fraction of this number might become targeted Accounts. Other companies that sell to the enterprise may have a wider pool, and may choose several dozen promising high-growth firms to target for each year.
For people that want to get started, 70-200 target Accounts may be a good place to begin. This will depend again on your industry as well as how large your sales and marketing teams are. You may also have preferences in how many Accounts you would like to assign to each salesperson to balance optimal coverage and account penetration.
#4 How important is the aggregate score? Should we use Salesforce or a third-party resource to calculate the Account or Buying Group score?
We always recommend starting by leveraging your existing CRM and using tools you already have. Start by looking at the data in your system so you can see if there are gaps, processes, and improvements that you need to drive before add an additional tool to the mix. A lot of discussions will need to happen between sales and marketing.
Your company may have unique needs, but we recommend trying to get the most out of what each team already has. Often the easiest solution is to buy a tool for each specific function, and throw software at the problem. Unfortunately, this can cause issues over time as you layer more and more tools onto the platform. We recommend optimizing Salesforce to the best of its ability then adding more functionality on top of it. Again, this is not to say that you shouldn't buy new tools, only that bringing in the right tool at the right time on top of a solid foundation will yield many more times the impact than haphazardly putting additional subscriptions onto the credit card.
#5 With an account-centric approach, how do you measure Opportunity or Account velocity?
To start, you can implement simple time-stamping at the Opportunity level to check how long it takes to progress from marketing to the sales pipeline, and then to either closed won or close lost. A lot of the reporting we work with clients on uses the Opportunity object, where we can track conversion and duration metrics.
We will also look at the Account and use Field History Tracking to determine the activities & movement of the Account. Track when an Account became a target and when sales last updated Account details. Leverage Salesforce Reports & Dashboards and talk with the sales team on a monthly basis to encourage consistent outreach to these targets.
Final Thoughts
We hope you have a better understanding of what an Account-centric Salesforce system might look like, and whether or not it's the right fit for your team. Still have questions about the Demand Unit Waterfall and Account-Based Marketing? Drop a comment below! Or, if you'd like for one of our experts to help you through the process, connect with one of our Revenue Operations experts to discuss in more detail!