My Experience with the OpFocus Salesforce Admin Essentials Course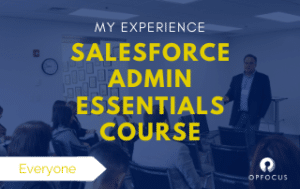 It's 5:00 PM on June 26, 2020. The OpFocus Salesforce Admin course taught by CEO David Carnes has just finished. And what a week it's been. We reviewed Salesforce functionality, when you should use it, and the impact it has on your organization. So let's go back to class and review my experience with the 5-day Salesforce Admin Essentials Workshop.
The Content
On day one David lays out the complete schedule for the week. At a glance, it seems impossible to cover the amount of content mentioned even with five full days of training. As the week progresses, however, a rhythm begins to set in. Each day we review the day before and discuss what today will focus on. I found that outlining the agenda each day kept the class on track.
During the class, you'll learn everything needed to become an efficient Salesforce Admin. Being fairly new to the platform, I was amazed by some of the functionality it is capable of. Even the certified admins taking the class encountered functionality they were unaware of such as how extensive its reporting abilities are. The entire 5th day focused on reporting and some of the crucial business intelligence they're able to provide. Just a handful of the topics covered include:
Flows
Reporting
Custom Fields
Object Management
In each of these topics, David took the time to walk through the basics before taking a deeper dive. David explained both how to use functionality but also why it's useful and when it should be used. Towards the end of the class, he discussed the Salesforce Admin Exam, what to expect, and advice on how to pass. Although he suggested additional hands-on experience with the platform, I left feeling confident in my understanding of Salesforce.
The Hands-on Exercises
There was an interactive aspect of each topic. For instance, after demonstrating how to perform an action, i.e. adding a custom field to an object, David would pose a situation when you might be asked to do this by a member of your team. Each of us in class practiced completing this task on our own and then David would ask for a volunteer to discuss how they went about performing the exercise. The volunteer would walk David back through the motions while other members of the class followed along.
I appreciated this aspect of the course because, personally, I learn more effectively from doing. Watching David step through the activity after doing it on my own allowed me to see any steps I may have missed. This combination of demonstrations, hands-on activities, and discussion made the class more interactive. This strategy ensures both new and current Salesforce administrators have the skillset needed to immediately apply their new-found knowledge.
The Community
This was the first year the course was offered online, making it available to professionals around the country. The members of my group ranged from seasoned Salesforce Admins to complete newcomers like myself. Although our experience with the platform varied, each one of us was there to learn. The vast majority of time in class was spent on Salesforce content, but not all of it.
David made sure to take a break at least once a day for the group to talk and get to know one another. Each day he would come prepared with a question to drum up conversation. Each person would share their answer and discuss the topic with other members of the group. This time spent getting to know one another really made the class seem more like a community.
Final Thoughts
As the week wrapped up, I took a minute to reflect on my experience with the 5-day Salesforce Admin Essentials Workshop. I learned more about Salesforce in a single week then I thought I'd know in a lifetime and developed great connections to share best practices with. If you or anyone else on your team is looking to take your Salesforce skills to the next level or prepare for your Salesforce Admin exam, I cannot recommend David's class highly enough. Take a look at the OpFocus training page to keep up to date with upcoming classes. After this week, I'm well on my way to joining my fellow Trailblazers as a master of the Salesforce platform.