Work Smarter: Top 5 Salesforce System Admin Tools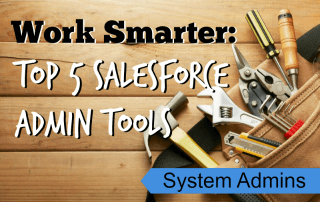 As an Admin, having to reach into the dark corners of Salesforce to build a solution, or troubleshoot an error, can be time-consuming. Fortunately, there are a few Salesforce System Admin tools out there that can help you successfully navigate the ocean that is the Salesforce setup menu.
1. Salesforce Inspector (Chrome, Firefox)
The first Salesforce System Admin tool on our list is an absolutely indispensable browser extension. Think of this tool as your Swiss army knife. From viewing field values to making fast extracts, this tool is a one-stop shop for most daily needs. Accessed by a secondary Quick Access menu button, this tool gives access to:
Mouse-over Field Metadata Viewer
Comprehensive Record Detail Browser
SOQL Data Export Tool
Data Import Tool
Org Limits Dashboard
Object Metadata Browser
2. Salesforce Navigator (
Chrome
)
Navigating through the Salesforce setup menu can feel like trying to find a needle in a haystack. Our second tool on this list is a Chrome-specific extension that allows a Salesforce System Admin to query through the many setup options using a Google-esque auto-filling search bar. If you are looking for freedom from mouse clicks, this app is a necessity.
3. SFToolkit.co
The third Salesforce System Admin tool on our list is a must have for anyone doing large implementations. From automation toggles to meta-data comparisons, this webpage-based tool saves time by helping to either create, package and push metadata. Go to SFToolkit.co and click on any of the options to:
Assess org health
Compare metadata
Compare data
Toggle automation and validation rules
Export the Schema
Create fields en masse
Build a package out of an org
Salesforce orgs tend to grow in creative directions over time as goals shift, Admins change, or challenges arise. Unless iterations are strictly kept in check through a rigorous validation process, inefficiencies can creep in.
One of the ways that we combat excess complexity is by looking at what fields are being used and how. Fourth on our list is Field Trip, an AppExchange app that helps Salesforce System Admins analyze field usage directly in an organization. We recommend periodically going through this data and trying to clear out any fields that aren't being used, have been misused, or have become stagnant for a long period.
5. Trailhead
Finally, although this last recommendation isn't a Salesforce System Admin tool in the traditional sense, it is a resource we keep going back to (and recommend our clients to make the most out of.)
Salesforce Trailhead has an extensive library of tutorials and resources that can help an Admin develop their Salesforce chops. Through hands-on examples, building out entire apps, and multiple choice quizzes, this toolkit provides a safe environment for Salesforce System Admins to experiment and learn.
Each module can take between 30 minutes or a few hours and can be picked up/put down to fit any schedule. Additionally, there is enough depth to the modules that everyone from starting Admins, all the way to Advanced Developers, will find something challenging. If you're looking to start your Salesforce journey, or would like to see something new, we recommend starting an Adventure at trailhead.salesforce.com.
Bonus: Training
If you're looking to take your Salesforce System Admin tool knowledge and best practices to the next level, consider joining our consultants for OpFocus' acclaimed in-house training class for admins. The class is always updated for the latest Salesforce release, so you can be sure to flaunt the latest tips & tricks when you get back to the office. Who doesn't want to be that #AwesomeAdmin?