The New 2018 Pardot & Salesforce Campaign Integration
If you are anything like me, one of the things that you may find annoying in Pardot is the functionality known as "Pardot Campaigns." It's a legacy feature with the primary purpose of providing data for the Pardot ROI report, usually denoting what most marketers know as "Original Lead Source," or the First Touch of how a prospect came into contact with your company. If you're an existing Pardot administrator, you probably know that your prospect can only be a member of one Pardot Campaign, which is usually assigned by the conversion asset, and the only data available in the Pardot Campaign is the associated Campaign Cost field value that you input.
However, for a Prospect to exist in Pardot, one must assign every asset to a Pardot Campaign at the time of creation, leaving you to use Automation Rules or Completion Actions to assign leads and contacts to a Salesforce Campaign. After the Salesforce Acquisition, differentiating between Pardot and Salesforce Campaigns became particularly confusing for new Pardot users, and it wasn't until the Spring '18 release that Pardot finally announced the new functionality to properly connected long estranged Campaign siblings.
Back in April 2018, Pardot launched the "Connect Pardot Campaigns to Salesforce Campaigns (Beta)" feature. This feature allows you to merge your Pardot Campaigns to existing Salesforce campaigns and after merged, you can continue using your Salesforce Campaigns moving forward. I'm sure I am not the only one to respond with a "HURRAY!"
Some of the most exciting new features include the ability to see Pardot activity from the Salesforce Campaign View. It allows you to connect multiple Pardot orgs to a single Salesforce instance by enabling different campaign record types. This feature even gives you the option to Sync all assigned Pardot Prospects as Campaign Members in Salesforce automatically. This feels like a fundamental change in how marketers can report on marketing attribution!
Expected changes in the Pardot & Salesforce Campaign integration
To make it easy for you to understand what the new features are, and any associated limitations, take a look at this handy-dandy comparison chart we've put together. Expect these changes if you switch to syncing Pardot & Salesforce Campaigns:
| | |
| --- | --- |
| Legacy Pardot Campaigns | Connected Salesforce Campaigns |
| Ability to Create Pardot Campaigns | Can only use Salesforce Campaigns |
| Prospects can only be a Member of 1 Pardot Campaign | A Prospect can be a member of multiple Salesforce Campaigns |
| Pardot Campaigns have only the "Cost" Value | As all other Salesforce Campaigns, you have all the standard Campaign fields such as budget cost, actual cost, campaign type, status, Parent/child relationship, and most importantly, customizable member status, among others. Also, add your own Custom Fields! |
| Pardot Campaign is the "Source Campaign" | The Conversion Salesforce campaign still applies as "Source Campaign," but further activity will be tracked on their respective campaign as campaign members. |
| Pardot Campaign reporting is Limited to the ROI Report in Pardot. | "Pardot Activity" shows as "Campaign Engagement History" on Salesforce Lead/Contact and Campaign views. |
| Opportunity/Revenue attribution is 1 to 1 ROI Report, strictly based on the Source Pardot Campaign | Using Salesforce campaigns the new "Campaign Influence Reporting" allows you to correctly attribute influence among all campaigns related to an opportunity. |
Old Pardot Campaign Window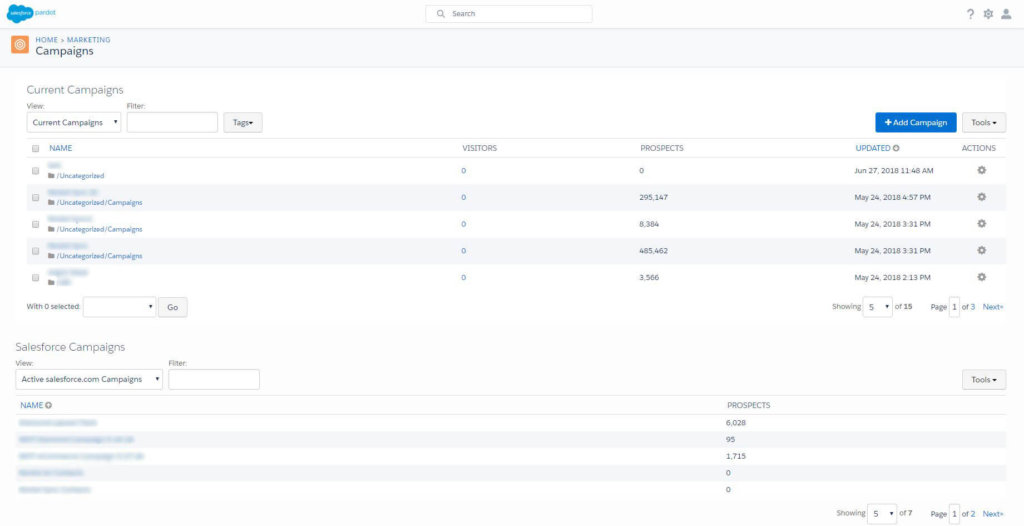 New Pardot Campaign Window (With salesforce Campaign Integration)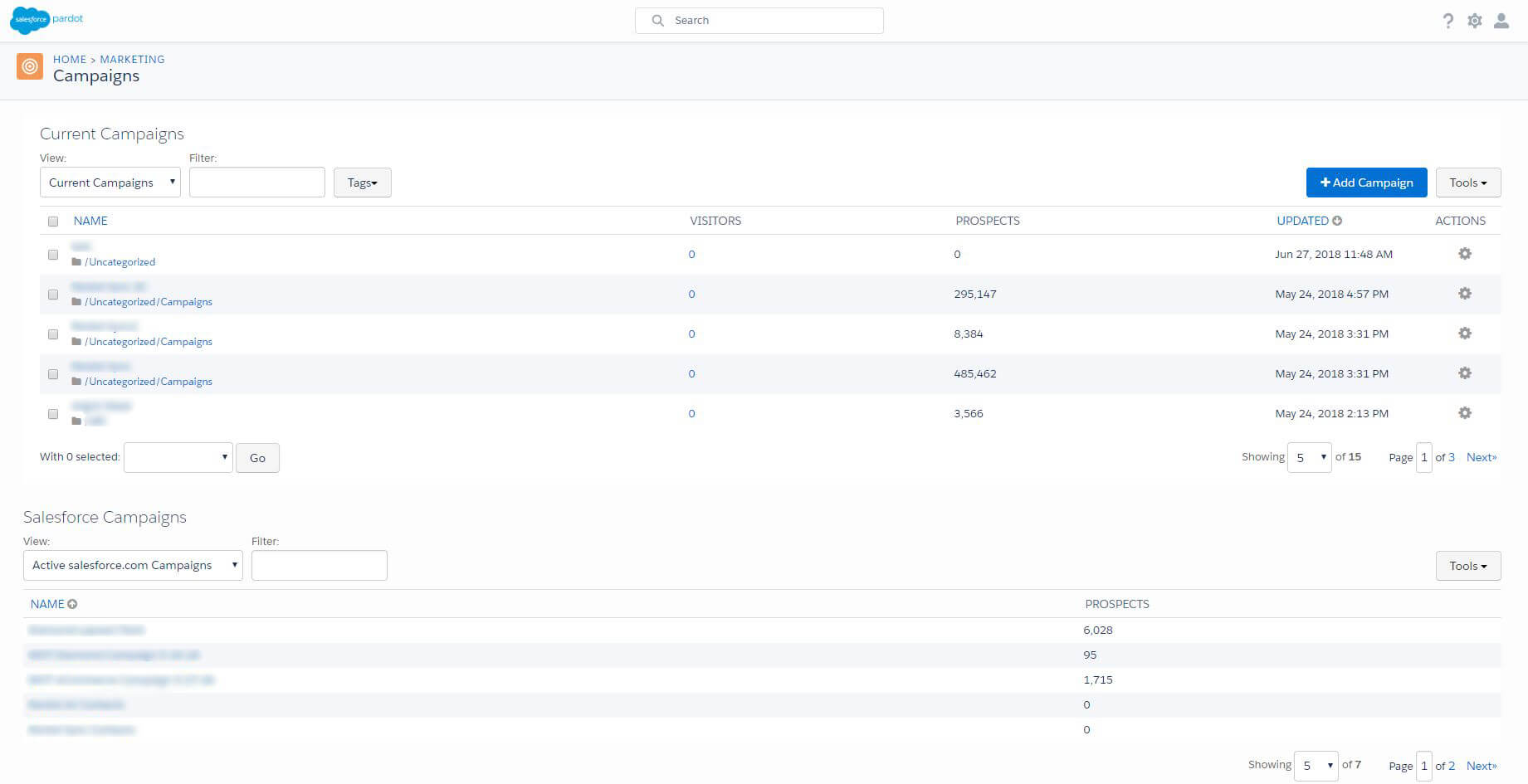 Though this is definitely a move in the right direction for Pardot, and most institutions would benefit from it, as a beta feature, there are still a few things to consider before making this change. Go through this list to make sure your goals and strategy match its functionality:
Anyone trying to access these campaigns will need to have either Single-Sign-On active on the User record or user access to Salesforce.

Once you make the change, you cannot create any campaigns from Pardot. Only assign to those from Salesforce.

Your unmatched Pardot Campaigns will still exist but become read-only (won't be able to make any changes).

Salesforce will make copies of those assets associated to the original Pardot campaign, and these do count towards your data storage limits.

When a Salesforce Campaign connects to a Pardot Campaign, Salesforce replaces the original values of the Pardot Campaign fields (including its name).
This functionality is what many of us have been asking for quite some time. It allows marketers to effectively track the efficiency and effectiveness of their marketing efforts, while it further closes the gap between the marketing and sales teams in your organization. Through the last few integrations on our Pardot Clients, I've found this new functionality particularly effective for brand new Pardot/Salesforce instances, where the danger of data loss or confusion is minimal. Some more good news is that the integration is fairly simple; though you will need to make changes on both Pardot and Salesforce almost back to back. A few clicks to enable it on each side and a few changes to your Campaign and Lead/Contact views, and you will be on your way, to better tracking and reporting for your Marketing Campaigns.
Connect Campaigns (Beta) Pardot Configuration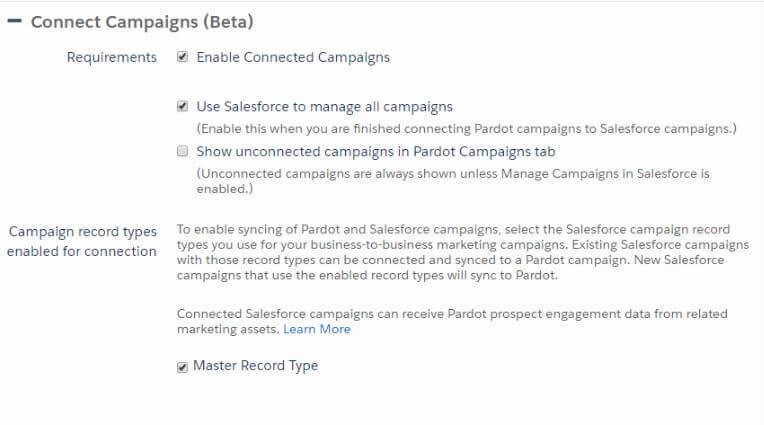 Remember to always reference the official Salesforce documentation on the Connect Pardot Campaigns to Salesforce Campaigns (Beta) functionality before turning any new functionality on!
Have a question and wondering if you're the right fit? Drop a comment below or check out our Pardot services!