People First: How to Stay Calm, Healthy, Focused in Crisis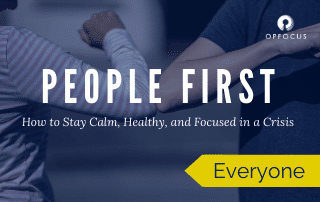 This is not the first blog post you've read about the COVID-19 coronavirus crisis, but we're taking the situation seriously here at OpFocus. One of our Core Values is "People First," and our community's health, safety, and well-being is our top priority.
At OpFocus, we work 100% remotely, with an unlimited PTO policy, so our team has the flexibility to care for themselves and their loved ones, coronavirus or not.
We realize this situation is not only a public health crisis, but an economic crisis that's impacting businesses globally, including our own. Despite regional Salesforce events postponed or canceled, we are more active than ever to stay connected with our OpFocus community. Project managers will restructure any in-person kickoffs to support productive, remote meetings. And our team of Salesforce & operations experts are 100% online, committed to delivering the world-class work for which we are known.
We are more active than ever to stay connected with our OpFocus community.
Many of us lived and worked through previous "black swans" — the 2000 dot-com bust, the 2008 financial crisis — and we're trying to keep our perspective on this one. We've been through the ups and downs of our industry, and we've seen that smart companies can not only survive the crisis, but also grow stronger. If they stay productive and keep their eye on their growth targets, then, with the right focus, they can thrive.
We're here to help you focus. We're here to help you thrive.
Your team still has targets to hit for 2020, and they need you to stay productive and keep your eye on your growth goals. Undoubtedly, you're getting enough tips about good hygiene and social distancing. We want to share our experience at OpFocus for staying productive, delivering excellence, and keeping focus while working remotely and taking care of your families.
5 ways to stay calm, healthy, productive, and avoid burnout working from home >>
How to care for kids (and teenagers) as a work-from-home parent >>
This crisis is not a time for companies to panic — it's a time for teams to come together — and if we can help your team stay on track to hit your 2020 targets, don't hesitate to reach out.
— Everyone at OpFocus
P.S. Got any tips or experiences you'd like to share for staying productive while working from home? Please share them with us in the comments section below!