How to Pick the Right Salesforce AppExchange Survey App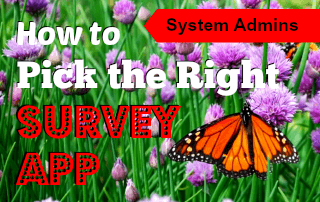 There are a lot of great Apps out there within the Salesforce AppExchange to help companies integrate Surveys into their Salesforce org, but how do you decide which one is the best fit for your company? I have taken the time to review some of these Apps and provided my thoughts and recommendations. Note that as KPI's and business requirements may differ, certain Apps may work better depending on your needs.
1. Timba Surveys by Altimetrik

Timba offers one of the few free Survey Apps. If you are on a budget, looking for a very straight-forward plugin to Salesforce, and do not require much customization, then Timba works great. Timba allows you to send Surveys to Salesforce Contacts, Leads, and external Contacts, and will then sync Survey results with records. I was a bit frustrated to learn that Timba only allows a few different question types, such as radio buttons or checkboxes.
2. GetFeedback – Online Survey for Salesforce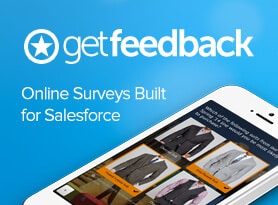 GetFeedback was created specifically for mobile use. It is another "free" App where Survey responses can be mapped to Accounts, Contacts, Cases, etc. I say "free" because depending on how many responses you expect to capture on a monthly basis, you will most likely need to throw down a credit card. However, the App does have a very user-friendly UI and a customer support team that is very responsive. It is very customizable, most being drag-and-drop, and seems to work similar to creating a PowerPoint. As you send out Surveys to Salesforce Contacts/Leads, you can include merge fields in the URL so that Survey responses automatically sync back to Salesforce as an Activity or are also mapped to certain fields. GetFeedback also offers real-time analytics that makes Reporting simple and easy to view.
3. Vista Survey System

Vista provides an online Survey-building platform that is simple and requires little IT experience. It is very user-friendly and guides you through the process of creating and sending Surveys as well as syncing them back to Salesforce. You can create custom branded Surveys with many component features to choose from. I found their customer service to be very helpful, although slow to respond at times. Of the paid Survey Apps we reviewed, this one seemed to provide the most advanced capabilities for the most reasonable price (about $2k per year). It seems that many of these Apps use merge fields tied into the URL to link the Survey Response to the correct record in Salesforce. While this is great, it can also be a limitation if you are looking to send Surveys to custom objects or need to generate an advanced list. Vista also has great Reporting metrics local to its website which can provide more visibility than standard Salesforce Reports.
4. Qualtrics Survey Research

Qualtrics is by far the most sophisticated Survey App that we reviewed in the App exchange. I was quite annoyed with the fact that they position themselves as a "free" App however. After requesting a demo and speaking with multiple Reps, they finally quoted me a base price at around $12k! I will admit that I was impressed with the demo, but not many small companies have the budget for something like this, unless you are looking to use the App for multiple purposes such as for Application submissions and evaluations. Also, as some users suggested, getting the integration to work is easier said than done. Their support team seemed to have a very limited knowledge of how the Salesforce integration works and basic documentation. If you are looking for a quite implementation and are not "tech-savvy" this is not the tool for you, and I would expect to spend a lot of time configuring and troubleshooting independently.
Which App do I choose?
As I mentioned in the beginning of this post, these Apps were reviewed due to specific business needs for our company; your reasons and requirements may be different. First, determine your budget to filter out the paid vs. free Apps. Next, pull in the correct stakeholders to the conversation and determine your core requirements. Finally, I recommend downloading one of the Apps into a Sandbox or Dev org to test; most offer a free 2 week trial period. You might even find what we did, that as you test, you may be able to satisfy different business needs. Communication and transparency are the key factors for a successful decision and implementation, and remember to always keep the end-results in mind. For other great Salesforce Apps, please read Kyle's post on 10 Great Free Apps!
If you have any questions please feel free to leave a comment or reach out to our team of Certified Salesforce Consultants.
[tagline_box backgroundcolor="" shadow="yes" shadowopacity="0.1″ border="1px" bordercolor="" highlightposition="left" link="https://opfocus.com/services/marketing-operations" linktarget="_self" buttoncolor="blue" button="Contact Us" title="Want more info on Salesforce from the experts? Reach out to our Certified Salesforce Consultants at OpFocus!" animation_type="slide" animation_direction="left" animation_speed="0.7″][/tagline_box]
Image credit: http://www.learner.org/jnorth/images/graphics/monarch/spring_manitoba053010_800.jpg