5 More Reasons to Switch to Salesforce Lightning Experience!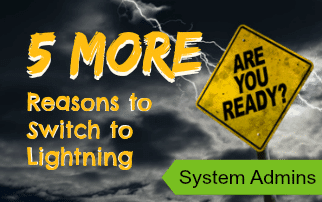 A number of my clients have been hesitant to switch from the Classic interface to Salesforce Lightning Experience because of the functionality that still isn't available in Lightning.
With every release, Salesforce adds more and more Classic functionality to Lightning, and Spring '17 is no exception. Here's 5 exciting features that you can now find in Lightning:
1) Duplicate Management
You no longer have to sacrifice good data to use Salesforce Lightning Experience; with Spring '17, you can detect and merge duplicate Accounts and Contacts in Lightning. Also, for both Lightning and Classic, you can now run duplicate management rules for Person Accounts!
2) Sleeker-Looking Flows
Have you ever launched a Flow screen and thought, "That looks gross and outdated?" Well, it looks like Salesforce finally agrees with you, and has updated the look of Flow screens to match the cool Lightning interface.
Even more awesome: this new look, while inspired by Salesforce Lightning Experience, is also available in Classic. All you need to do is check the "Enable Lightning Runtime" checkbox in your org's Process Automation Settings, and then you could have Flow screens that look like this: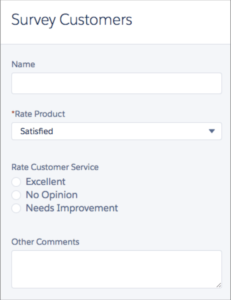 3) Review Pending Approvals
Instead of flipping between Salesforce Lightning Experience and Classic to approve records, users can now approve records directly from the Lightning home page. This update doesn't appear automatically though — admins will need to add the "Items to Approve" component to the home page's record page in order for people to use it.
4) Account Hierarchies
The visualization of Account relationships was exclusive to Classic until now. When on an Account record in Salesforce Lightning Experience, you can now select the "View Account Hierarchy" action from the Action drop-down menu on the top-right of the page.

The new Account Hierarchy page in Lightning comes with a bonus- you can customize the information that appears in the page! Just go to Setup/ Object Manager/ Account, and then click the "Hierarchy Columns" link at the top. You can add/remove which fields appear as columns on the Hierarchy page… making it much more relevant to your Sales team.
5) Quote PDFs
Instead of switching to Classic to send a PDF that was created/attached to a Quote in Lightning, you can now send that PDF to a customer directly from Salesforce Lightning Experience. Streamlining quoting processes FTW!
Still struggling with whether to migrate to Salesforce Lightning Experience or stay in Classic? Our series of Salesforce Lightning Experience blog posts may help!