What a Unicorn Knows by Matthew E. May and Pablo Dominguez – Book Launch Highlights
RevOps leaders drive growth and efficiency – it's in our blood. For those of us in SaaS, the pinnacle of our work is helping our company attain the elusive "Unicorn status." To reach these heights, hearing from those who have done it before is crucial. Experienced growth equity operators Matthew E May and Pablo Dominguez recently published What a Unicorn Knows: How Leading Entrepreneurs use LEAN Principles to Drive Sustainable Growth. This book outlines the principles SaaS companies must adopt to reach this elite status.
OpFocus, Tricentis, and Winning By Design brought the SaaS RevOps community together at SXSW to hear directly from the authors and learn about the real-world-tested SCALE framework. Watch the complete discussion below and read further for the highlights!
Meet the Authors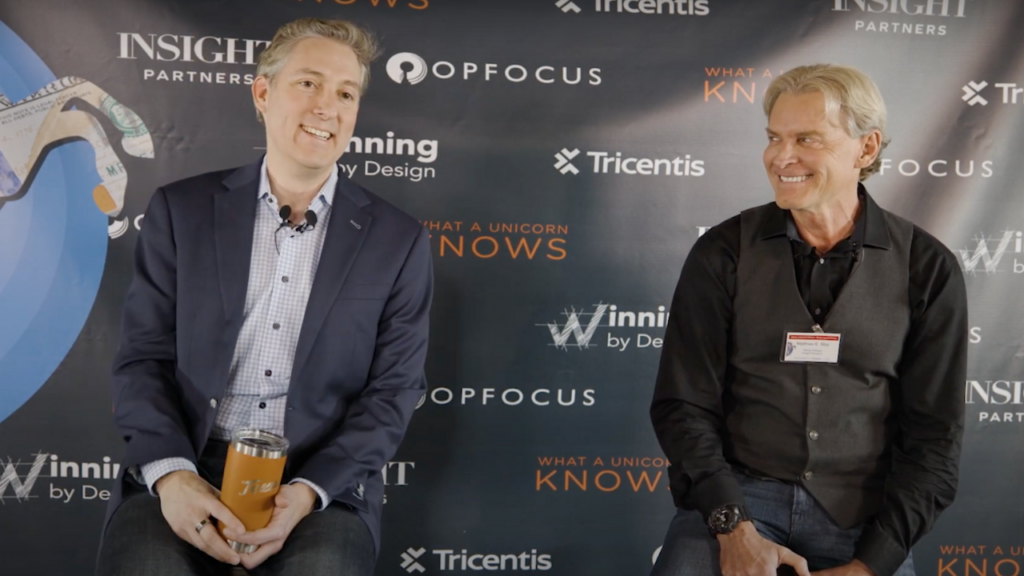 Pablo is an Insight Partners operating partner focusing on sales, customer success, and the GTM stack. He partners with a deep set of portfolio companies to build and scale effective commercial teams by applying proven and repeatable go-to-market and operational best practices. He brings over 23 years of global sales operations experience, including senior leadership roles at ADP, AppNexus, Avaya, and The Alexander Group.
Matt is a Senior Advisor of Special Operations at Insight Partners and the author of five previous books, including bestselling and award-winning titles The Elegant Solution, In Pursuit of Elegance, The Laws of Subtraction, and Winning the Brain Game. His background spans over 30 years of experience facilitating senior leadership teams through strategy, innovation, and lean initiatives. He spent much of his career with Toyota, the birthplace of Lean principles. A colleague asked him to work with Pablo's team kicking off their relationship and this fantastic new book.
It's essential to highlight what "unicorn" means in SaaS. A unicorn is a US-based software company with a one billion dollar evaluation. Named after the mythical creature, these companies are rare, with only about 150 created annually. Only .01% of start-ups go public, much less reach unicorn status. This rarity leads to the central question What a Unicorn Knows addresses; "Why do some companies make the leap when others don't?" The answer is in Lean principles, which set out to "achieve the maximum effect through minimum means."
Lean principles are well illustrated in Formula 1 pit stops. Pit crews are the epitome of efficiency, changing all four race car tires in as little as 1.8 seconds. During this time, the crew removes four bolts, then replaces and secures the new tire on all four wheels. Matt and Pablo realized these principles of tight, efficient work done in the quickest time possible apply to the modern RevOps Go-To-Market process and include numerous real-life examples and actionable templates in the book.
Matt and Pablo outline five principles with the acronym S.C.A.L.E.:
Strategic Speed – Can you make the right decisions on where to play?
Constant Experimentation – How do you build short, affordable experiments into your company culture?
Accelerated Value – Can you close the gap between what you promise customers and what you deliver?
Lean Processes – Have you streamlined redundant workflows?
Esprit De Corps – Are your people aligned with the company mission?
Audience Q&A
When Gainsight began working with Insight Partners, the executive team set out to reduce implementation time by 60% and cut the sales cycle in half. Like most of their portfolio engagements, Matt and Pablo conducted interactive workshops to teach the Gainsight team the lean process. There were four workshops: two focused on the sales cycle and two on the post-sales cycle. One team in each session would serve as a control group, using their traditional methods with no outside help, while the other leveraged lean principles to fine-tune the process. Each group produced a minimal viable process, received a signed-off, then implemented their findings. The end result was that Gainsight reduced product implementation time from 16 weeks to 4-5 weeks and created a new product, Gainsight Essentials.
Organizations using lean principles operate efficiently during both economic booms and downturns. As economic headwinds cause resource constraints, lean principles, such as minimizing risk and increasing efficiency, empower your organization to remain competitive.
"The best companies are operating effectively, regardless of if it's a boom or bust environment."

Pablo Dominguez, Operating Partner at Insight Partners and Author of What a Unicorn Knows
After working with Matt and Pablo, companies test the resulting process improvements on a small scale with measurable results. These tests are based on insights from the internal team and running them requires no additional cost. It's important to highlight this fact when introducing ideas to leadership. Once leadership understands the ideas come from their team, this reinforces that the process changes directly remove roadblocks their team faces. Be sure to highlight that you'll quantifiably measure the impact on production and efficiency. With minimal risk and meaningful results, leadership is likely to greenlight a test run.
The single most important ingredient needed to implement SCALE effectively is leadership. Companies that lack leadership bought into the process do not have the transformative results as those that create this alignment. A lack of oversight leads to friction and resistance to change, resulting in companies not testing or implementing the process improvements. To create leadership buy-in, find the right balance of lean principles that work for your team. Don't select one or two elements to implement; instead, find the best way for your organization to leverage all five.
De-growth focuses on doing more with fewer resources. Although similar, the Unicorn model maximizes your effect through minimum means. The lean principles focus less on reducing your workforce while doing the same level of work and more on getting the most out of your employees through streamlined processes.
Create an environment that challenges your team with continuous improvement while fostering excitement about what the future holds. Developing this company culture relies on strong leadership that understands team members are people and have their limits. Find a balance between pushing team members and preventing burnout. When striving for continuous growth, rather than mandating quantifiable improvement targets, create a culture that encourages continuous improvement and empowers team members to streamline inefficiencies.
Cross-functional collaboration is the key to identifying bottlenecks and inefficiencies. Team members normally work in silos with only a vague idea of the processes and problems other departments face. Bringing departments across the organization together effectively evaluates the entire customer journey. These cross-functional conversations highlight inefficiencies and redundant work processes, providing the opportunity to brainstorm ways to streamline the journey from start to finish.
Process experimentation is one of the only times you should focus on being "good enough." Experiments aim to test an idea with minimal effort and resources, meaning the bar for what's considered "good enough" is much lower. When implementing process changes, take a different perspective, and focus on what your customer defines as value. Once defined, work backward from this goal, removing anything in the way of providing value to your customers.
"Always ask yourself, are you working from the customer back? The customer is the only entity that can truly define value."

Matt E. May
Conclusion
This conversation between Matt and Pablo uncovered numerous insights into how to foster a lean, efficient, and ever-evolving SaaS culture, but only scratched the surface of what's in the book.
Top Takeaways:
Adopt the Unicorn Models S.C.A.L.E. principles to reduce inefficiencies
Foster a culture of continuous improvement and empower your team
Run investment process improvement tests with quantifiable results
Ensure buy-in from leadership before implementing process changes
If you're ready to get all the insights from these two RevOps veterans, pick up your copy of What a Unicorn Knows today!