Your Top Salesforce CPQ Questions Answered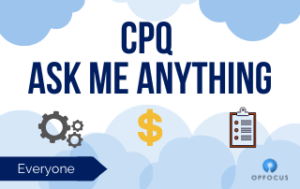 We all run into questions from time to time where we just need an expert opinion. As Salesforce Growth Experts, OpFocus would like to make our years of experience available to answer your questions. Our Director of CPQ Consulting, David Movsesian, recently held an "Ask Me Anything" session where he answered your questions around Salesforce CPQ. Whether you're thinking about starting a project or have one ongoing, come learn from our in house expert!
Question – How do I justify CPQ and convince senior staff it is the right thing to do?
Answer – There are a number of articles and case studies around the cost and benefits of CPQ. Especially in SaaS organizations is where companies can see the real benefits since it works well. Since it's the continuous flow of transaction data where you see the real value which fits very nicely into SaaS companies. Any companies that have a renewals structure that is struggling is able to see increased accuracy and efficiency with renewals. We are happy to demo Salesforce CPQ or connect with your team to discuss if it is the right fit.
Question – If the subscription period begins on customer acceptance, it cant be included in the quote as a finite date.
Answer – The duration of the term is key. The start date is a required field, but we know start dates move. You can put in one date now and go back to edit it after the fact. All of this information will sync to opportunity when the time comes to close win the deal you have options. You can contract it immediately and adjust the start date on the Contract before activating it. Another option is through Orders, especially if you have Advanced Order Management. You can have an Opportunity with a start date that is then split into multiple Orders and you can assign different start dates to the different orders so the resulting subscriptions will start on different dates. The term will remain the same, so assigning different start dates will result in different end dates for the various subscriptions that result, but you will co-term those on the next renewal.
Question – We are new to using product codes, we price based on multiple factors that will impact the final price. How is this handled in Salesforce CPQ?
Answer – You basically have a separate offering for each of them. A fixed fee item and a Percent of Total line would be two separate lines. You don't have to show them all to the client. You just use them for the purpose of calculation. They will be treated as two separate lines where one may be a single cost and another may be recurring. You can decide if you would like to make this visible to the client or just show them a single item.
Question – We're not a SaaS business, haven't done CPQ yet. We have some pricing models and how we need to handle revenue models as well as being able to track different quotes that may not be standard. How can we configure custom pricing for customers or track pricing? We are thinking about using out of the box Salesforce Quotingbefore trying CPQ.
Answer – There are certain situations where we would not recommend using the out of the box features and CPQ is definitely a better fit. If AOC 606 compliance is a concern, Salesforce CPQ is a must-have. One of the benefits of the tool is that you are able to customize how products are priced and what revenue bucket each item will fall into. CPQ also enables a number of ways to do determine price including list pricing, and discount schedules, block pricing, and slab pricing to create pricing tiers. You can also use Price Rules to calculate and inject pricing into a line. For the most part, if you can do it in Excel, we can usually replicate that in CPQ. Some organizations may use a combination of these pricing models and Salesforce CPQ makes this easier to do.
Question – Migrating licenses or quotes from another system into Salesforce CPQ
Answer – When you implement salesforce CPQ, it's important to implement the whole transaction cycle, new business, amendments, and renewal. Don't do new business first then think you'll come back to do the other parts. On day one, you'll want at least some of your historical data in the system.
There different options for getting this legacy data into your system. To determine the best approach, we will need to know the state of and volume of your current data. We'll also need to determine what we will be configuring in your system. If we are configuring bundles, data loads are more complex. If you've used the project as an opportunity to rethink your products, pricing, and packaging, there will likely be some transformation required. You can either load this data into Salesforce at go-live or deal with it when amendments or renewals come up. It does not all need to be loaded immediately but you will likely want some of it. So, understanding what your data looks like and how it should be transformed in CPQ is something we will need to understand when making this recommendation.
Question – Justifying the Cost to Get Budget Approvals. When it comes across management's desk, why do we need it and why should we use it?
Answer – Usually CFO's love CPQ, they typically understand the importance of how data is transformed and compliance to ASC606. Without CPQ, companies will reference the bundles as a single sku which can be challenging when they are comprised of components that fall into different buckets. As you move towards ASC606 compliance, you will need to know what bucket each cost point falls into.
Question – How does the flow of data work in Salesforce CPQ
Answer -When you implement Salesforce CPQ it sits beside your opportunity, it's not integration it is native to Salesforce. It's creating your transactions and giving you all the structure you need to create transactions and get them accurate. It then passes that information over to the opportunity products and opportunities. Then you can connect something like Netsuite to opportunities and opportunity products or orders and order products. Those are the objects that any implementation would connect to. It doesn't change anything but is an engine to help you enforce the rules you want to enforce when it comes to bundles and pricing. It feeds back to those standard objects that other platforms would connect to.
Final Thoughts:
There may have additional questions but we hope this session answered your top salesforce CPQ questions. We recommend looking into how to organize your team for a CPQ project, the importance of including stakeholders at the beginning of a project, and how to avoid delays in a project kickoff. These tips help ensure your project gets off to a good start. To learn more about Salesforce CPQ and determine if it's the right fit for your team, we invite you to connect. David or one of our other in house CPQ experts would be happy to lend their expertise.