When To Consider A CPQ Solution
Is it time for CPQ?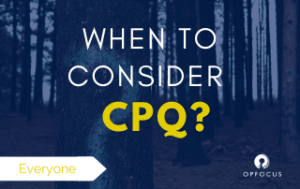 More than ever, Sales and Operations Managers are considering adding a Configure Price Quote (CPQ) system to their companies' tool chests. A well-configured CPQ Solution can be a game-changer that will help make your organization more efficient and more profitable. However, before you begin evaluating the various CPQ solutions, you'll need to determine if it's time to take that leap.

To help you with that decision, here are five considerations. If any of them sound familiar, and you're coming up short with standard Salesforce features, then you're probably ready to take that next step to CPQ.
Volume Pricing and Term Pricing
If you offer a discounted rate on your product or service for volume purchases, you've probably faced this limitation in Salesforce: one product, one price. Multiple Pricebooks could work, but that doesn't address tiered or term pricing.
There are other workarounds. Some companies have created custom fields on the Product record, each field representing the various tiers and their respective pricing for each of those tiers. They then use formulas to fetch the correct price for the quantity entered on the Quote. But unless you have only a handful of products and they all have the same volume tiers, this quickly becomes unmanageable.
Without a better solution, many companies go the route of creating a unique SKU for each price break. If they have five price tiers, they'll have 5 unique SKUs for the same Product. If you also offer term pricing (discounts for 2-year or 3-year terms, for example), those 5 Products quickly become 15! If you have hundreds or thousands of offerings, multiplying every one of them by 15 makes for an extensive product catalog.
The better CPQ systems offer functionality to address both volume and term pricing. Create one SKU and define the volume breaks and the pricing for each. If you have term pricing, you can set that as well. The end result is one SKU that is priced correctly when your salesperson adds it to the Quote and enters a quantity and a term.
Renewals Management
For many companies, renewals represent a significant stream of recurring revenue, and because these are their existing customers, and because keeping a customer should require less effort than finding new ones, renewals revenue is usually considered to be more profitable for the organization. For many organizations, however, managing renewals is still a very manual process, requiring employees to touch a renewal opportunity many times.

Automating renewals can be challenging because it touches several areas. You need to have a clear picture of what a customer has purchased (Assets), when they are due to renew (Contracts and, perhaps, Entitlements). You need to know what the customer needs to purchase at the time of renewal and what they should pay for it. Your management team will also want visibility of an accurate renewal pipeline, which means creating Renewal Opportunities well ahead of the renewal date. Through custom development, you could automate the creation of a Renewal Opportunity when your original sale is made in order to provide that visibility, but that's a snapshot in time. If the purchased product or service is changed, either through the purchase of add-ons or additional licenses, maintaining that Renewal Opportunity is a challenge. To address that issue, some companies may wait to create the Renewal Opportunity until just before the renewal is due, but by doing that, you've lost visibility of the pipeline for most of the year.
In either scenario, the renewal pipeline is unreliable.

This is an extremely relevant and often costly dilemma for many companies, and it's another area where a CPQ solution can help. Some CPQ offerings address this better than others. The ones that do it well, like SteelBrick, will identify when a renewable product is sold and automatically create the Contract and the renewal Opportunity. When the Contract is updated through subsequent add-on sales, the renewal Opportunity is automatically updated as well, providing visibility of an accurate renewal pipeline. And because you can rely on these renewal Opportunities to be accurate, you can automate the emailing of a renewal Quote to the customer to eliminate that manual touch.

With CPQ, one of your most profitable revenue streams is both highly visible and automated, so your valuable sales resources can focus on attracting new customers.
Add-On Sales: Cotermination and Proration
For those companies offering subscription-based products, the notion of add-ons can be challenging. The customer makes an initial purchase and, at some point during the term of that subscription, they decide to either purchase additional quantities or add-on products or services. The concepts of cotermination and proration present complexity, and as a result, an opportunity for errors in processing the new transactions.

Cotermination is the assignment of an existing Contract's term end date to the new Product. This is usually inherited by adding the new Product to the existing Contract. But when a customer is purchasing new products or licenses for a partial term, calculating the correct amount to charge them is proration. Cotermination establishes the term, and proration establishes the price.

The out-of-the-box Quote object in Salesforce is just not equipped to handle cotermination and proration. As a result, the Sales Rep is required to do a manual calculation, then override the price on the Quote line item (potentially resulting in a need for management approval). Once the Opportunity is closed, a Sales Operations Administrator adds the resulting purchase to the Contract.

Just a few years ago, cotermination and proration were a challenge, even in CPQ systems. In recent years, vendors have caught on and provided solutions. They're not all created equal, but if you choose a CPQ solution that handles this well, then what used to be a complex and error-prone process becomes reliable and worry-free.

In the case of SteelBrick, when creating a Quote for a customer, the system can prompt you if there is an existing Contract in place. If you choose to add the newly-purchased subscription items to that Contract, the new additions will be co-termed to the Contract's end date, and the price will be prorated automatically. As an added benefit, the existing renewal Opportunity, which was created when the original opportunity was closed, will be instantly updated to reflect the new purchase to ensure that your renewal pipeline is always accurate.
Bundles and Complex Configurations
Salesforce provides a basic product search functionality, which is fairly limited. If your products are simple and an à la carte approach to building a Quote works for you, then the out-of-the-box solution may suffice. If, on the other hand, your offerings consist of more complex configurations or configurable bundles, the leap to CPQ is not such a leap at all; it becomes a logical next step.

One of the most basic features of any CPQ is the ability to create a technically valid configuration. (It's the "C" in CPQ, after all.) This allows an admin to create pre-approved bundles that consist of multiple components, some of which may be required, and others optional. The sales user can select or deselect (if permitted) which components to include or exclude, and the result is always a pre-vetted, technically viable solution.

This substantially reduces the amount of time it can take to configure an accurate solution. A few years back when my team implemented CPQ at a previous company, the creation of a proposal was reduced from an average of 30 to 40 minutes, to less than five! And the error rate was reduced to zero!
Enforce Business Rules
Most companies have business rules related to the proper way to sell their products. They range from being well-documented to just tribal knowledge passed down through the years. Attempts to enforce business rules in Salesforce are often limited to security settings to prevent users from doing things they shouldn't (although most companies' security settings are far more permissive than they should be) or validation rules to enforce the entry of valid data. Beyond that, compliance with business rules is usually based on the honor system. When users are allowed to sidestep accepted business practices, either intentionally or not, there is almost always a cost to the organization. That cost could just be in one or more employees taking the time to correct the transaction, or it could mean honoring a quote that wasn't manager-approved, resulting in lost revenue.

In addition to those business rules designed to enforce the proper configuration of the products you sell, you may want to control which customers can purchase certain products, which sales reps can sell them, set minimum or maximum purchase quantities, enforce prerequisite products, set approval processes, or any number of other requirements. The list can become a bit overwhelming, which is why they are often not followed. For that reason, you need a system that will automate the task of enforcing them.
So, is it time for a CPQ solution?
You're likely now wondering if a Salesforce CPQ solution is right for you. These are just five scenarios where, if they apply to your business, a well-configured CPQ solution can make your life better. Can you limp along a while longer with what you have? Maybe. But if you're experiencing any of the pains described here, then you're probably just prolonging the inevitable, and by doing that, postponing the return on the investment that comes with a more efficient sales team, more accurate quotes, a less manual renewals process, and business rules that are consistently followed. In fairness, there are tools available that may address aspects of these issues (many of them available on the AppExchange), and you could probably cobble something together that will get you a few more miles down the road. But how much further? And what do you do when you get there? When it's time to expedite the process and get your team up and running with a CPQ solution, reach out to my team. We'd be happy to discuss if it's the right fit.