Is Your Company Ready for CPQ?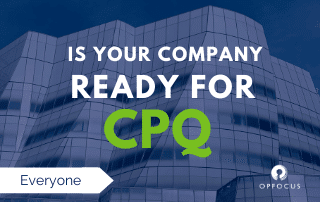 As marketing, sales, and business operations continue to evolve and streamline their interconnected processes, organizations are realizing the benefits that a CPQ (Configure-Price-Quote) system can provide. If you're wrestling with unruly product catalogs, business rules that are unclear or inconsistently followed, complex pricing policies, or frequent configuration or pricing mistakes, then a well-implemented CPQ can be life-altering. So, is your team ready for CPQ?
When we first engage clients on CPQ projects, many are facing the following:
Unruly product catalogs
Time-consuming quoting process
Outdated spreadsheets and disparate systems being used for pricing and quoting
Frequent configuration or pricing mistakes
Business rules and pricing policies that are unclear, inconsistently followed, and difficult to enforce
Difficulty with prorating and co-terming of add-on products or services
An inefficient renewal process and poor visibility of renewal pipelines
In recent years, these tools have not only evolved in response to the needs of today's businesses, they've become easier to implement and maintain. They've also become more cost effective, helping businesses to recognize ROI faster than ever. All good things.
The rewards are there for the taking, but you may have some work to do to put yourself in a position to take advantage of them.
Here are a few considerations to determine if your organization is ready for CPQ.
Is your team ready for CPQ?
Essential to the success of any project is putting a good team together. The ideal team should consist of:
Executive Sponsor: This project will touch many parts of the organization. Change is inevitable—frankly, change is the whole point— so having the support of a member of senior management will prove invaluable in clearing any hurdles.
Sales Users: The thought leaders from your sales team should be involved in the project from requirements gathering through final testing and training.
Product Experts: You'll need someone who is not only familiar with the existing product catalog, but who can also make decisions about changes to offerings, if needed.
Sales Process Expert: This might be more than one person. A Sales Manager and a Sales Operations Manager may approach questions from two different directions, and help you arrive at a good solution more quickly.
Project Manager: Overseeing your project involves a significant time investment. The Project Manager for your project must make this their full time job.
Is your data ready for CPQ?
Clean product catalog: If you've come this far in the CPQ conversation, it's possible you have a complex product catalog, which might just mean too many SKUs. If you've been thinking about cleaning it up, this is the time. Well-designed CPQ solutions can often reduce the number of offerings required to manage your business, making life simpler for you and for your customers.
Product selection and configuration rules: If you have complex product configurations, a CPQ system will help to simplify product selection and eliminate configuration errors. Any product selection criteria need to be well-documented.
Integration points with other systems: Any integration with external systems or applications need to be identified. This includes accounting systems, licensing systems, websites and Communities, electronic signature applications and others.
Are your processes ready for CPQ? 
Well-documented business rules: For many companies, business rules and processes evolve over time. They become a patchwork of solutions as an organization grows, expands its product offerings, or acquires and integrates companies. It's not unusual that documentation of business rules is often incomplete or out of date. Take the time to not only create any missing or incomplete documentation but to review (and even challenge) any documented processes. The exercise may help you to identify existing rules that are obsolete, unnecessary, or simply counterproductive. This is the time to reevaluate all of them; to think about how you want to manage your business, not just how you've always done it.
Well-documented pricing rules: Your pricing rules, discount policies, and any customer-specific or custom pricing should be well-documented and approved. CPQ tools will help to enforce these rules, but the rules should be clear and consistent. If your pricing involves more exceptions than rules, you have some work to do.
Defined approval process: For most companies, exceptions are unavoidable. So efficient exception management is critical. If you plan to require approvals for pricing overrides, you'll need to document the exceptions that require approval, and who will be authorized to approve them.
Approved document templates for Proposals: Templates for any customer-facing documents should be decided upon in advance. This includes any dynamic content that may vary based on the type of proposal. For example, a commercial proposal document may include different terms and conditions from a proposal provided to a government entity. Have sample documents ready.
Well-defined renewals process: If you're wrestling with renewals, today's CPQ systems can greatly improve your situation by simplifying asset and contract management (which, in turn simplifies cotermination and proration of add on sales), and maintaining renewal opportunities, which provides greater visibility into your renewal pipeline. As with any other process, your approach to renewals must be well-documented.
Is your system ready for CPQ?
New or existing Salesforce implementation: Whether you're already using Salesforce or you're considering implementing a CPQ solution as part of a new Salesforce deployment, you'll need to identify any configuration and customizations that could potentially impact the quoting process.
Sandbox available for development: You'll need a sandbox for development and testing. A full sandbox is ideal, but not required.
A well-implemented CPQ solution can provide invaluable benefits to your organization. As you can see, the real work may be in preparing your organization for the change.
Although this article covered information on how to determine if you're ready for Salesforce CPQ, you probably still have questions about the platform. If you are considering a CPQ solution, give us a call. We have a team of certified experts who can be a strategic resource or answer your questions about getting started in the CPQ space.