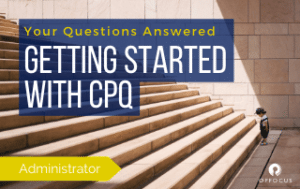 If you had to name the easiest way to grow your SaaS company, what would it be? You likely thought about reducing customer churn. CPQ is hands down the best type of system to make the renewal process less painful and streamline the renewal process. Unfortunately, far too many teams have little to no experience and don't know where to start with CPQ. As your SaaS growth partners, OpFocus feels it is our duty to help companies reach their full potential. Our director of CPQ consulting, David Movsesian recently answered the community's questions around how to start with CPQ. Let's discuss the top takeaways!
What is the trend, are we seeing people move towards or away from CPQ?
To start things off, David answered one of the questions on everyone's mind; are companies actually turning towards CPQ? The simple answer is yes, companies are definitely moving towards CPQ. OpFocus finds this is the fastest-growing area that teams are looking at for renewals. As churn is becoming more of an issue in difficult times, improving the renewal process is top of mind. Even at challenging times, companies are bringing on CPQ; it seems to be recession-proof.
Why use CPQ as opposed to Native Salesforce?
There is certainly more functionality available in CPQ than in native Salesforce. For this reason, when it comes to creating product bundles and managing renewals, not a lot of people chose native Salesforce over something like CPQ. It doesn't provide enough reason to use it and people that do often experience syncing issues. CPQ provides better control over pricing, especially if you have a unique or robust pricing model. When considering contracting, contract management, amendments, or renewals, it's very difficult to build a custom system that meets your needs. For this reason, we highly recommend Salesforce CPQ.
Why do people jump on a CPQ program?
There are many reasons that teams are turning to CPQ. The main most common reasons we see for bringing it on however include:
Pricing and packaging – the ability to bundle and package offerings more effectively and easily use these when creating contracts
Renewals – CPQ streamlines renewals ensuring your team has access to the data it needs to effectively connect with clients and close business.
Data Confidence – All teams want reliable data they have confidence in. CPQ provides this one central source of truth when it comes to pricing and bundles
Can you explain evergreen products and when you would use them?
Typically every product has a term and a price. At the end of this term, there is a renewal. What an evergreen product does is determine a price but not a term. This means that the product does not contain an end date. The client will be billed continuously until the product is terminated in that account. Subscription services are one area where we see evergreen products being used.
When would you use Multidimensional quoting?
Multidimensional quoting is the concept of quoting for different amounts each cycle then applying discounts. An example is quoting someone for 3 years then charging $100 year 1, $200 year 2, and $300 year 3 with different discounts applied to each year. We do not recommend implementing this because it breaks often. If you use bundles, it can break your bundles. Instead of looking like a simple bundle, this causes multiple line items to be created, complicating the system and leading to pricing issues. David stresses that what may work well for new business can cause problems with amendments and renewals.
Conclusion
As the conversation came to an end, it became clear it could likely have gone on for another hour. The community had so many questions about revolutionizing the renewal process and how to start with CPQ. As you evaluate whether CPQ is the right fit for your business,  schedule some time to discuss your situation with David or another member of our CPQ team. We pride ourselves in providing an honest assessment of whether or not CPQ is the right fit for reaching your operational goals.