What Related Records Go Where with Salesforce Lead Conversion?
In the Summer '17 release, Salesforce shared an update regarding Lead Conversion now operating the same across the Classic, Lightning and Salesforce1 interfaces when it comes to how related records and Files are handled. Essentially, when you convert a Salesforce Lead, there are four places that your related records and Files can be reattached: Account, Contact, Person Account (if enabled), and Opportunity. To help you understand this default mapping of related records and Files, Salesforce included the chart below on page 116 of the Salesforce Summer 17 Release Notes: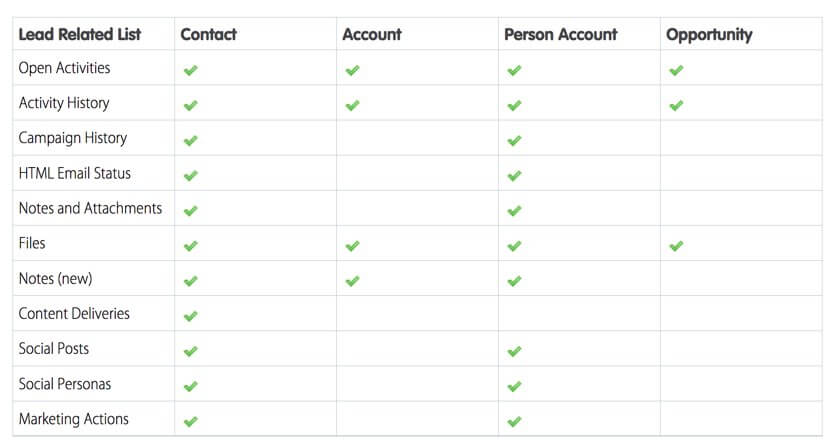 An important consideration if you have built a Custom Object which looks up to Leads is that these related records will not be reattached to anything upon Lead Conversion. An example of this might be a company that tracks Demos in a Custom Object, as has them associated with both the Lead and Opportunity Objects. Out of the box, upon conversion, a Demo record associated with a Lead would not be reattached to the corresponding Opportunity. The information is effectively lost, similar to what happens in Lead Conversion when Custom Fields are not mapped using Map Lead Fields. In this case, however, it is possible to reattach related records and files that are converted by writing and deploying an Apex Trigger.
Over the years, the Convert Lead page in Salesforce Classic has been one of the worst pages in the system. We can not edit the Page Layout directly, and the default behaviors are dumb at best (ie creating an Opportunity by default and making it look like creating a Task is required). It is possible to override the Convert Lead button to redirect to a custom Lead conversion page, in which we can specify the behaviors you want. This requires involving a developer, to create the appropriate behavior in Classic, Salesforce1 and Lightning using Apex Triggers, Visualforce Pages, or Lightning Components. Need more tips on Salesforce Leads or other implementations? We can help.