Understanding Salesforce.com Edition Limits and Their Impact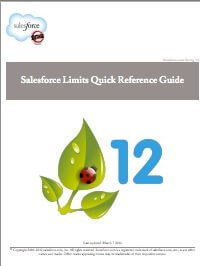 Thousands of companies co-exist on the same servers within Salesforce.com's multi-tenant architecture. To keep the peace, and more importantly, to ensure that every instance of Salesforce is running smoothly, Salesforce enforces governor limits on how much of one thing can be done at a time within each system. One analogy for this is to imagine that you were living in a high rise apartment building, and your neighbors were Tesla (consuming vast amounts of electricity) and Cousteau (using all the water to keep his many fish tanks flowing). You're apartment life squeezed in between them might not be as you expect (oh, and the smell of all those fish!), unless there were some limits imposed.
Understanding Salesforce.com Edition Limits is necessary in system design and administration. Up until recently, you'd have to search through multiple separate pages within Help to satisfy any governor limit concerns. With the Spring '12 Release, Salesforce's great doc team has given us a fairly comprehensive list of these limits, compiled into one place. The "quick reference" guide (now 39 pages!) is thoughtfully split into Salesforce application limits and Force.com Platform Limits, with each feature and its limits detailed in a matrix against each Salesforce.com edition. This is recommended reading for anyone coming up to speed on customization or development on the platform.
Three quick examples of where limits impact decisions around system use and design include:
When small companies look to integrate production data from elsewhere in their organization into Salesforce.com, it is best to consider impact on data storage. For systems with less than 50 users, without purchasing additional storage, there is an allotment of 1Gb of data storage. With each individual record consuming approximately 2k of space that means the system can have up to 500,000 records. You may need to rethink bringing over all those legacy tables of data!
Roll-up Summary fields can be a great way to expose more summary details directly on page layouts. We love to see companies calculating Total Lifetime Value of Customer and Total # of Purchases (and then Avg Deal Size via formula) on the Account object using Roll-Up Summary fields. There is, however, a limit of 10 of these Roll-up Summary fields per Object, across all editions. Use them wisely!
One limit we have bumped against within our own Salesforce instance for years is 25 custom tabs in Enterprise Edition system. With Aloha Apps, which aren't counted against the limit, it has been easier to deal with, but still we've had to juggle priorities some.
Have you bumped up against any limits unexpectedly? Share your experiences in the comments!