The OpFurcus team – Meet Our Furry Coworkers
Working from home doesn't mean we're working alone. We still have team members constantly checking up on us at our desks. But being remote does tend to change the type, size, and species of those we work with. They may not be the hardest working employees, (I've even seen a few of them dozing off during conference calls) but these furry coworkers are an essential part of our team. It's about time they receive the recognition they deserve.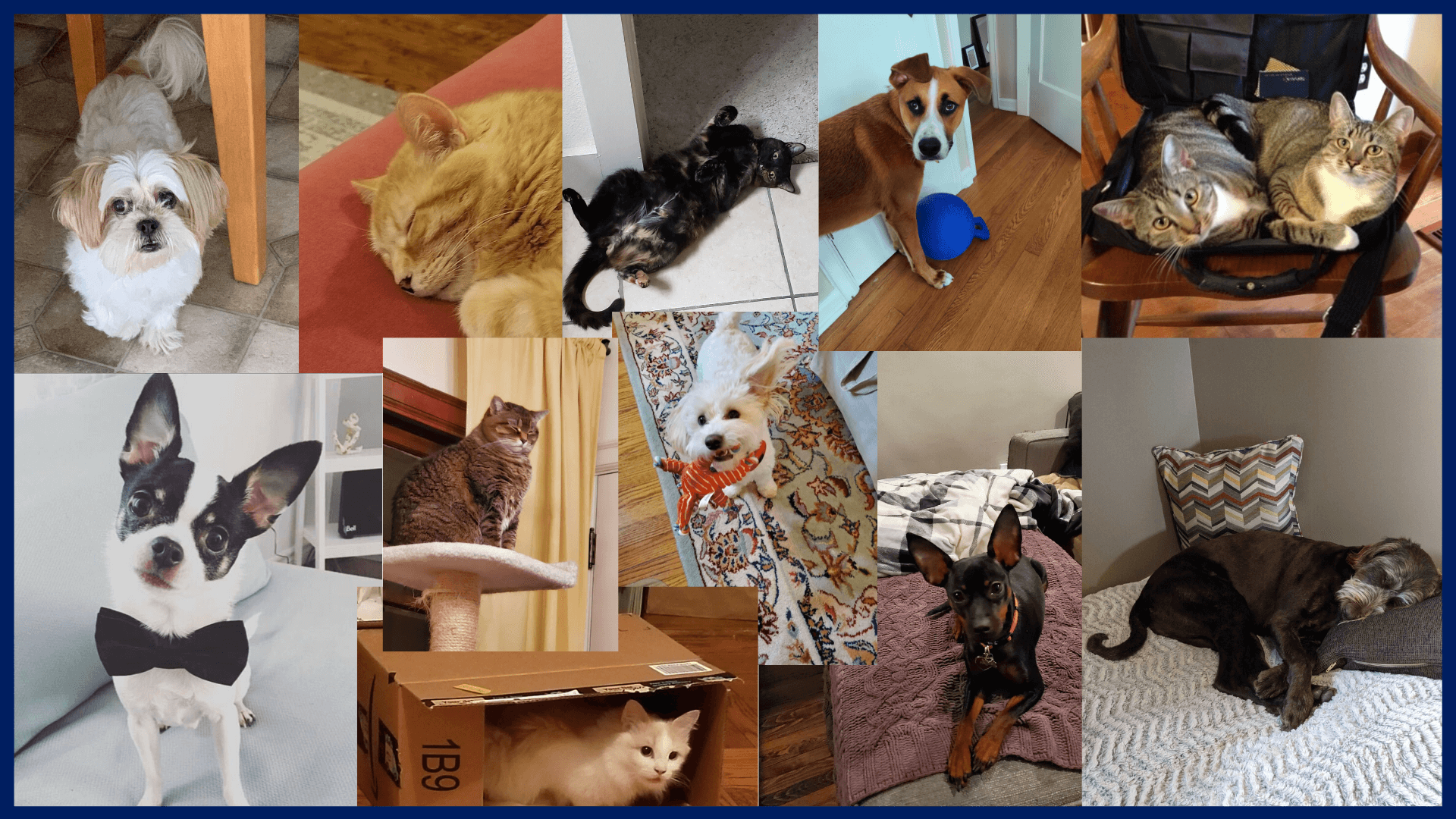 Max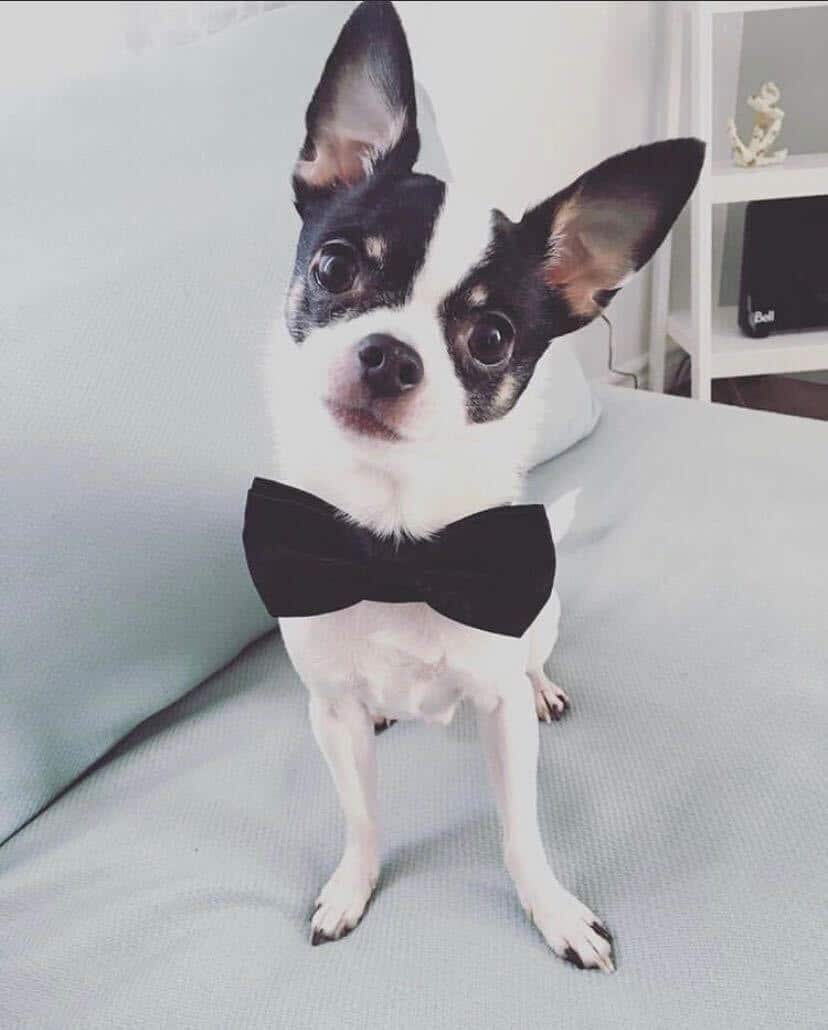 "Max is a 9-year-old Chihuahua – Though he thinks of himself more of a human, than a dog. Whilst Jack is working on closing business, Max is working on his debut novel about a small dog leaving his quaint country village and trying to make it as an actor in the big city." – Jack Bennett, Consultative Sales Manager
Frankie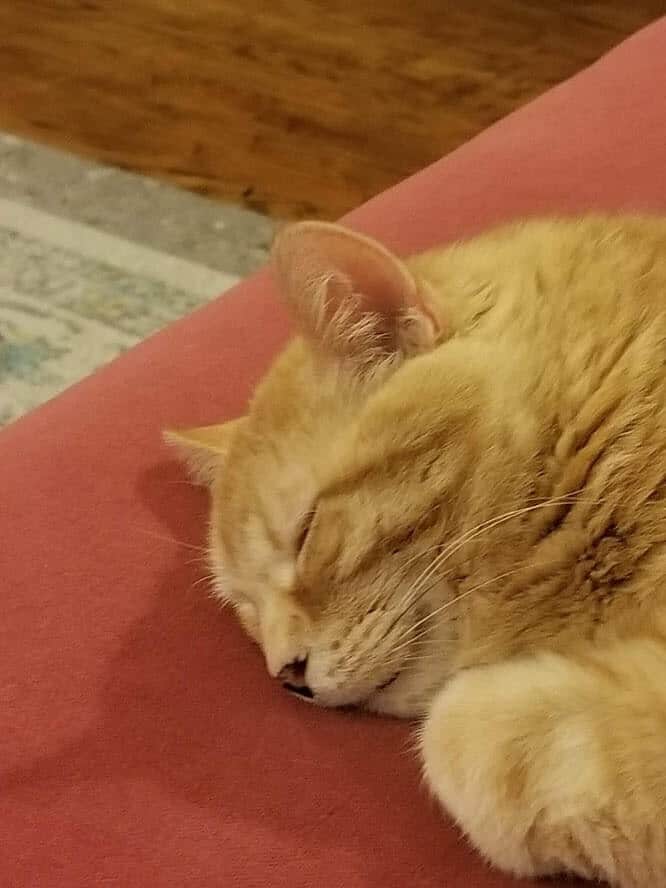 "Her given name is Frankie Stein after a Monster High cartoon character. She is the feminine counterpart to Garfield. She primarily sleeps and eats and grooms her furry siblings (both dog and cat). She is deaf so is easily startled. When she starts to meow, people on the other end of the phone usually think it's a baby crying because she is so loud." – JoAnn Culbertson, Solutions Architect
Luna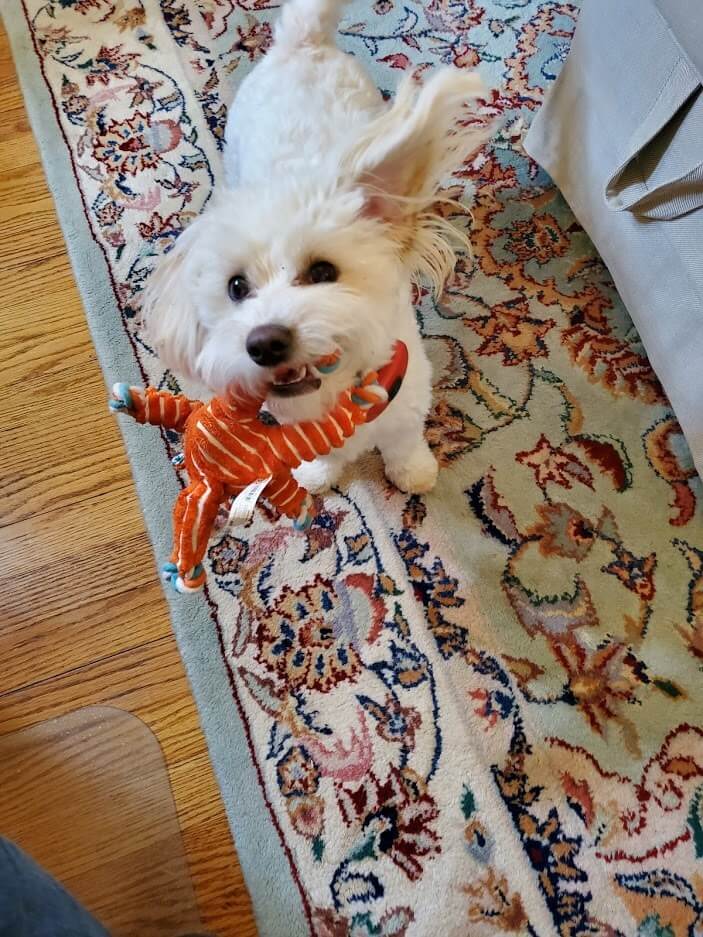 "Her full name is Luna Lovegood. She is the ultimate toddler – she loves everyone and is very mischievous and doesn't know when to back off. She invents games and always wants me to play them with her when I'm trying to participate in a conference call. She settles for playing with the cats, but they don't necessarily appreciate it." – JoAnn Culbertson, Solutions Architect
Sophia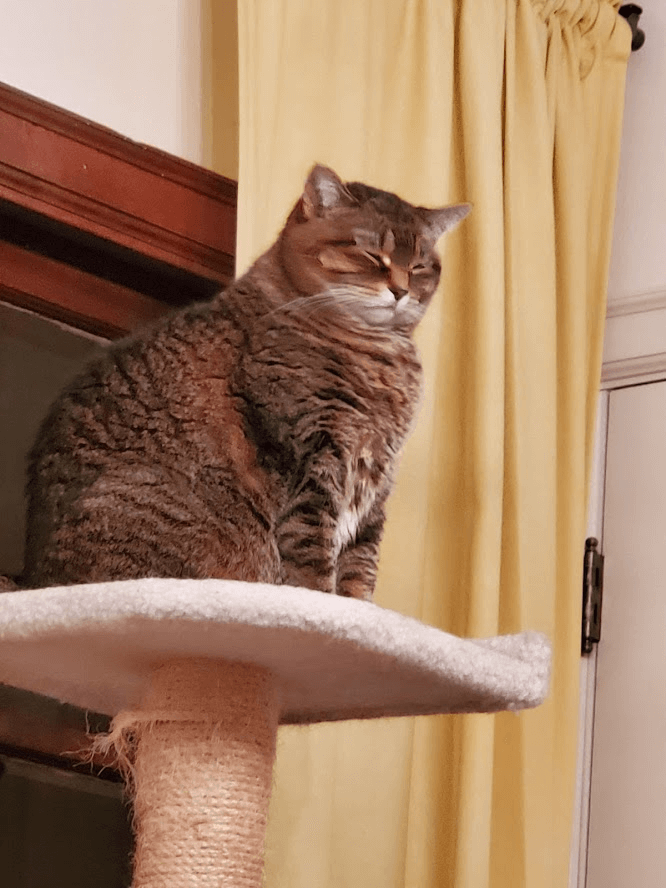 "Sophia the First – she goes by Sophie. She is the ruler of the roost. She baits the dog and then turns on Luna when she falls for it. She primarily sleeps in her cat condo while I'm working when she isn't terrorizing the dog. " – JoAnn Culbertson, Solutions Architect
(About Luna, Frankie, and Sophia) – "All three always follow me around the house regardless of what I'm doing. I've tripped on all three of them multiple times just trying to make dinner. When I"m working, they are always in the office with me. If I walk out of the office, they will wake up from what seems to be a dead sleep and follow me to the next destination. " – JoAnn Culbertson, Solutions Architect
Mia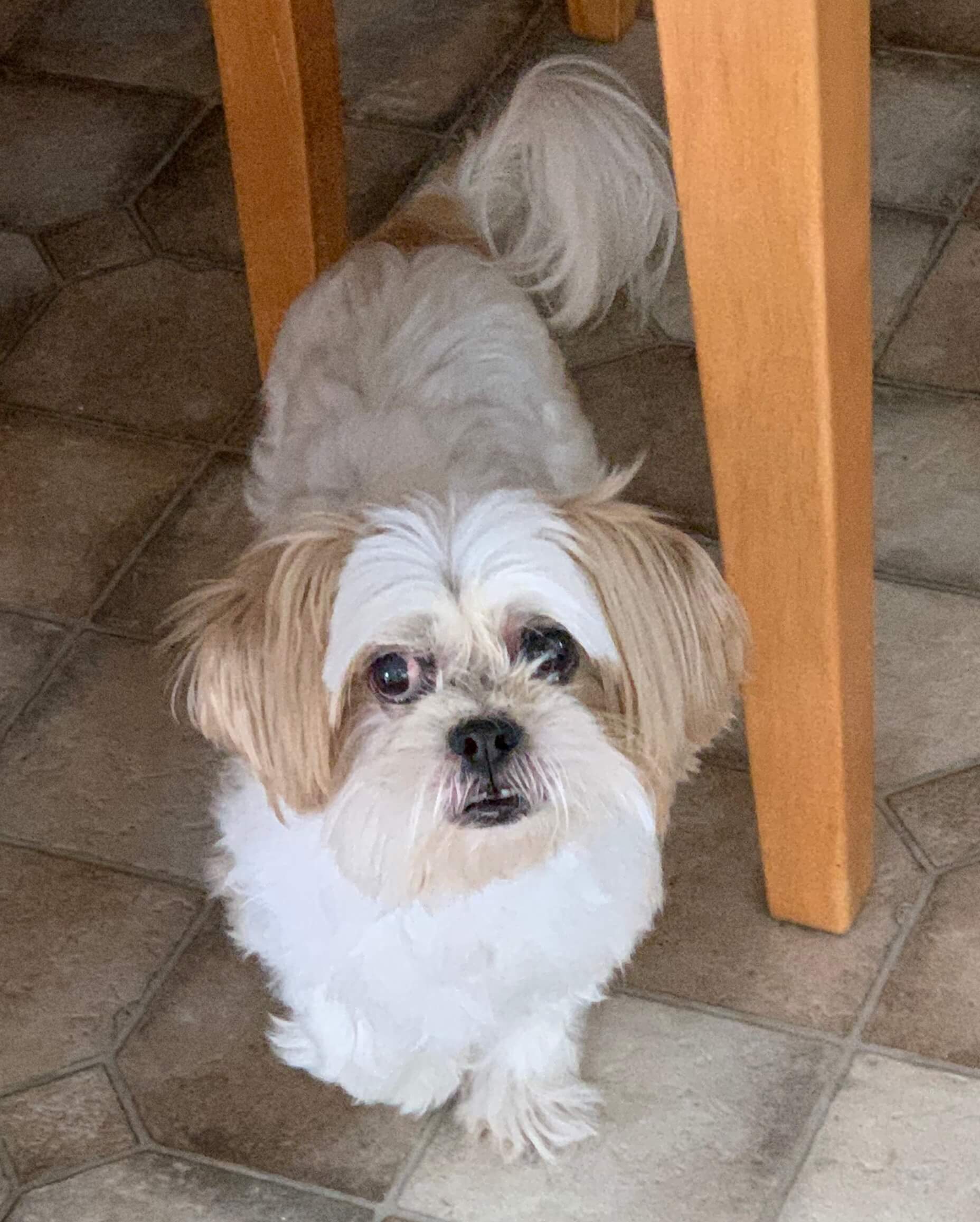 "Interesting coincidence, we rescued Mia (a Shih-tsu) six years ago, just as I was beginning my journey in the Salesforce Ohana. The vet thought she was about 4 years old but now as she has become almost completely blind, the vet thinks she might be a bit older, so now I say she's 12."
"She was abandoned, so she follows me from room to room, wherever I go! She's not overly active, so she's quite happy just laying around while I work. Walks are usually fairly short, but once in a while, we go for a long one! She got her picture on Salesforce.org as well!" – Pierre Desjardins
Millie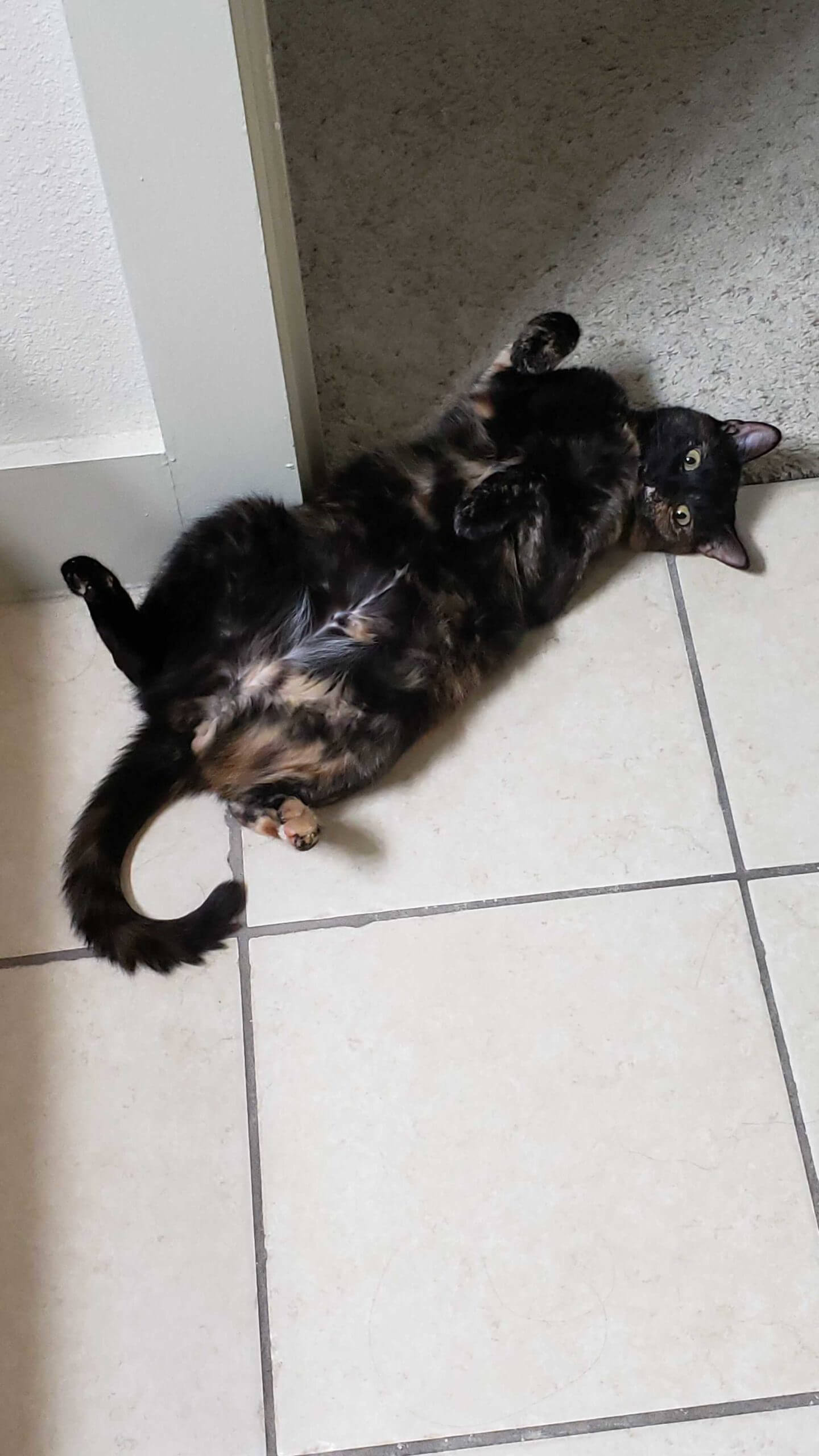 "She's a 2-year-old rescue, and she loves laying under our indoor fern tree all day while I work and makes chirpy sounds when she knows she's in trouble!" – Elliot Hebert, Senior Salesforce Consultant
Roxy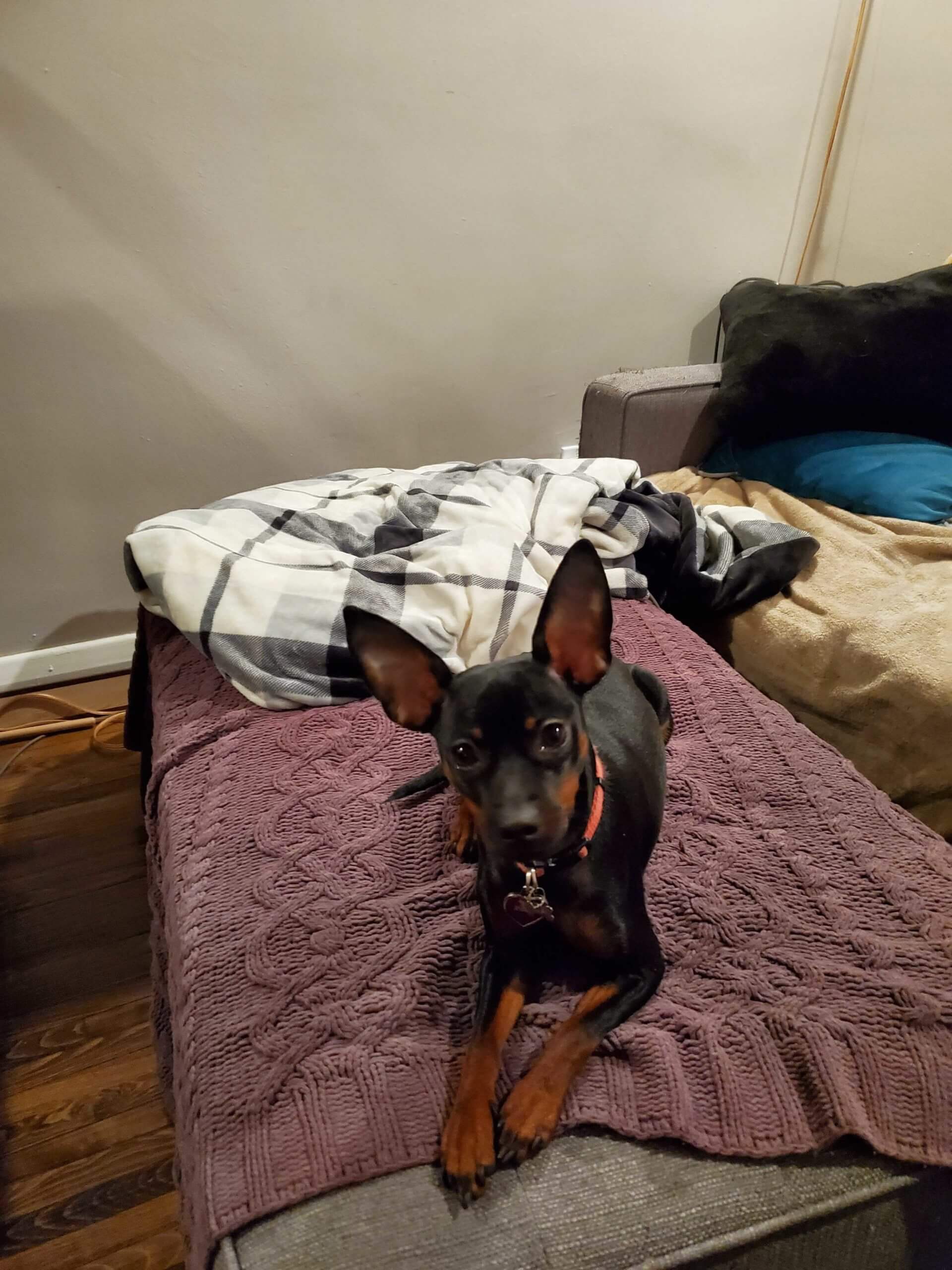 "Roxy is a rambunctious 9-month old MinPin. She frequently gets herself much too excited whilst playing with our two cats and ends up getting what we like to call "the zoomies"."
"During most of the day she finds a warm place on the bed, in her kennel, or on the couch to burrow herself under blankets to sleep. When she gets bored of sleeping we've found the best way to keep her busy is to put some chicken jerky in a "busy-ball" for her to try to extract the treat from. In the afternoons I like to take her on a 3-7km walk to distract us from work and keep active." – Dan Bailey, Developer
Maggie and Mollie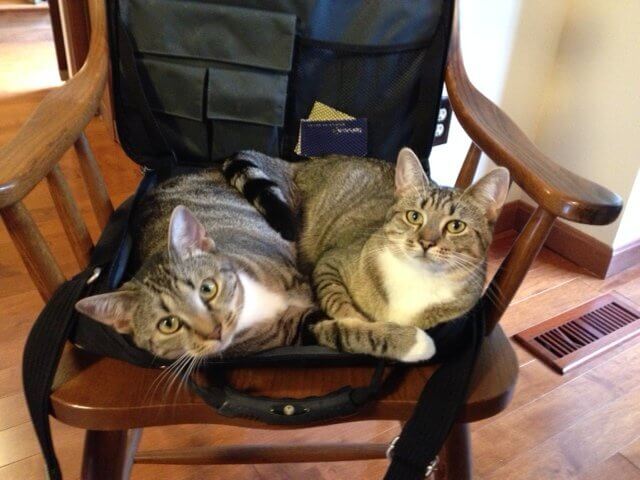 "Maggie, Mollie, and I adopted each other a little over six years ago. They were tiny kittens, daughters of a stray who had been rescued by the great people at Baypath Humane Society. Even as kittens, they enjoyed helping me with design projects. They're particularly good at shredding paper (although they don't always wait until I'm done with it) and chewing power cords (although they don't always wait until the cords are unplugged). While I'm working, they like to keep up with what's happening in the world by watching YouTube videos. "
"When they're unwinding from a long day of paper-shredding, cord-chewing, and other mischief-making, they're excellent models for sisterly love. Even when I'm in the midst of a thorny technical challenge, they can always help me relax, unwind, and smile!"- MJ Kahn, Senior VP of Technology
Lily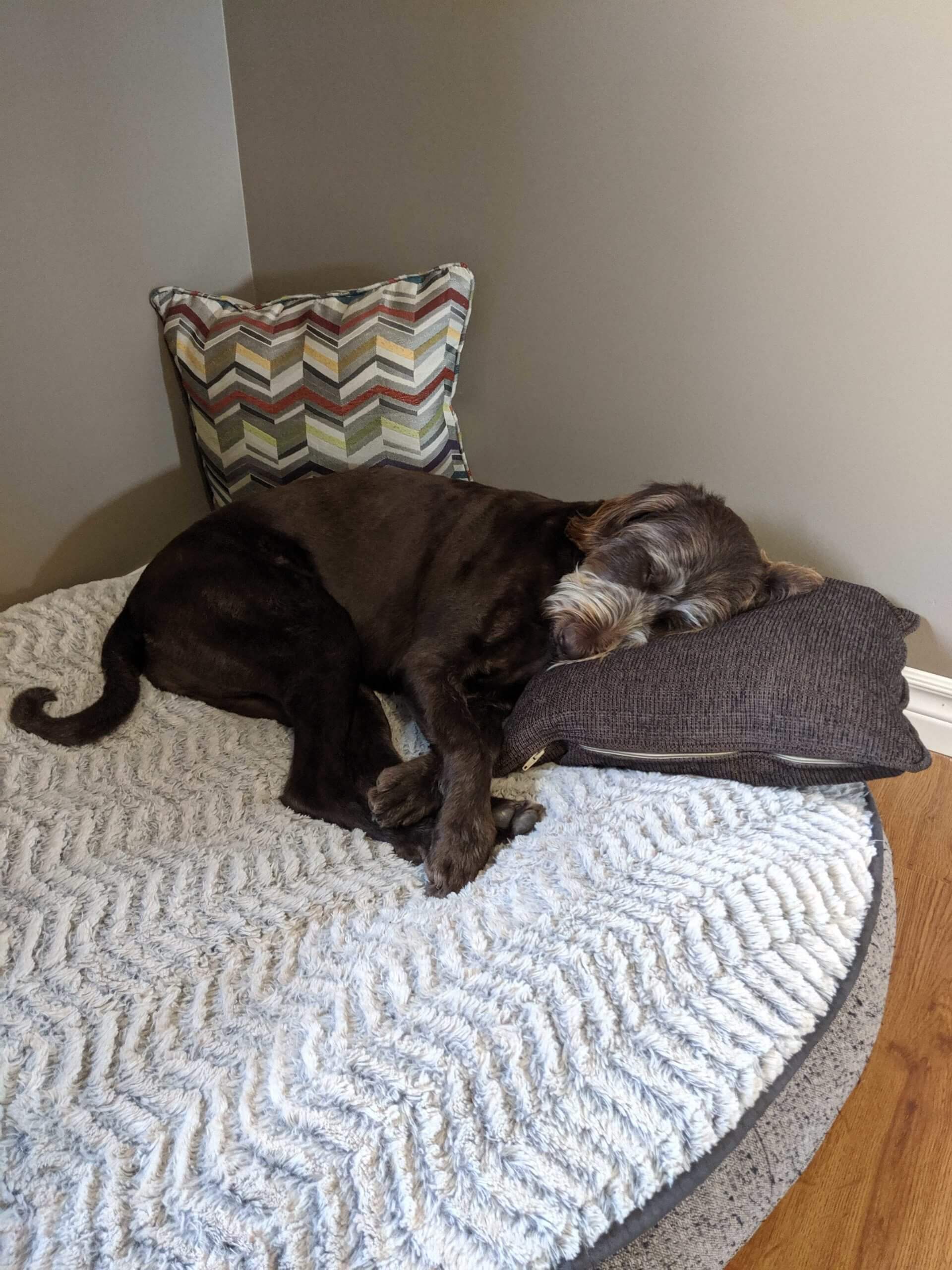 "Lily is a chocolate Labradoodle, who is 2 and a half years' old. While I'm working at home, she loves to lay and sleep on her bed with her pillows and sometimes plush Pokémon (Charmander) toy. If I ever need a short minute break, I keep her company on the floor."
"She's extremely cute and cuddly, and it's easy to forget she's even in the same room; since she is so quiet! From time to time, I may have her say hi during a video conference. Sometimes Lily's mom is home during the day as she works shift work, and then she can't decide who to be with, so she will go between upstairs and downstairs." – Sebastian Toplician, Salesforce Consultant
Ivy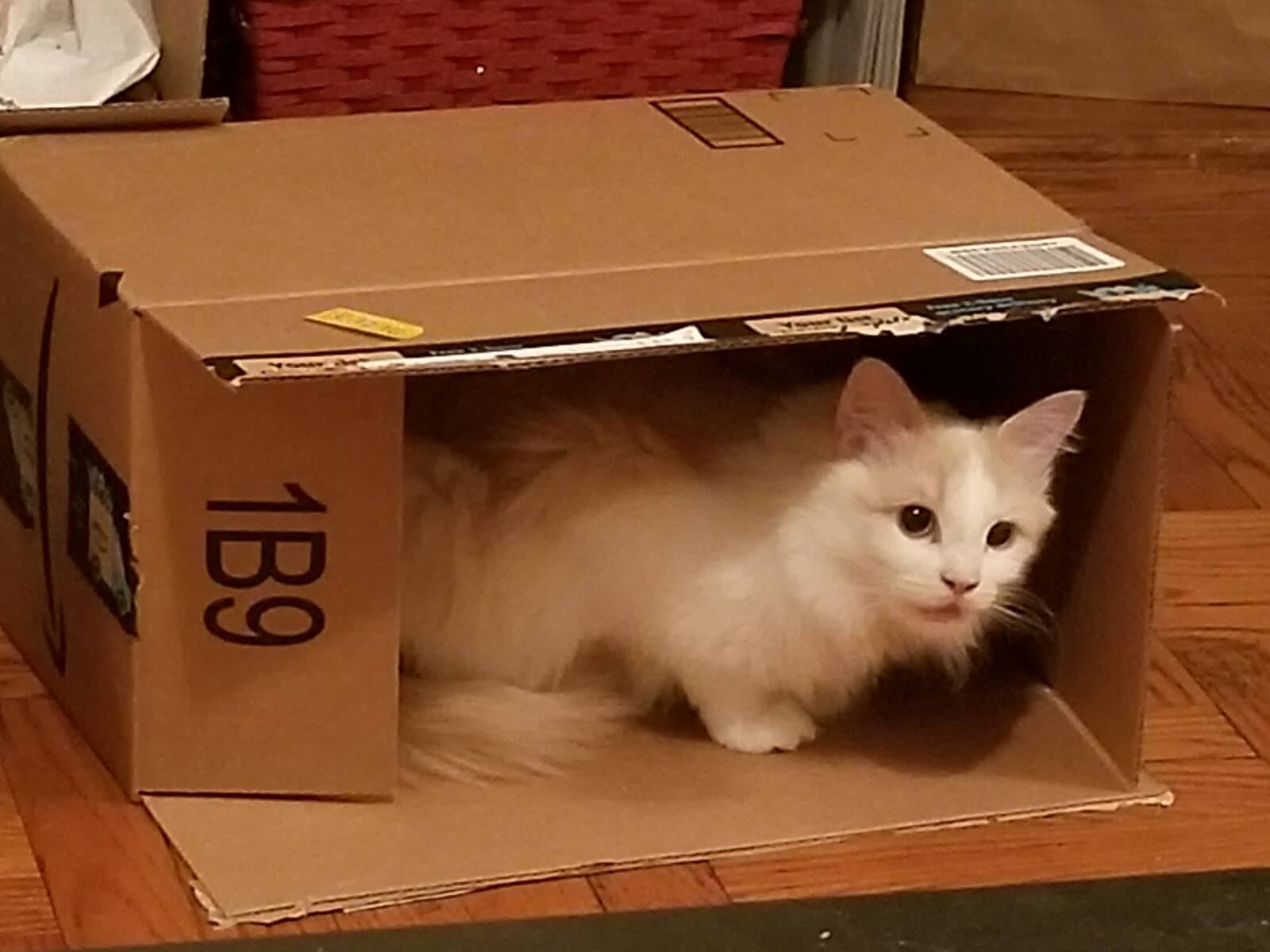 "Ivy became part of the family just over a month ago and has quickly settled in. She is four years old but a true kitten at heart. Boxes of all shapes and sizes are her passion and she will take any opportunity to jump, crawl, and hide inside them." – Kyle Chagnon, Marketing Manager
Beau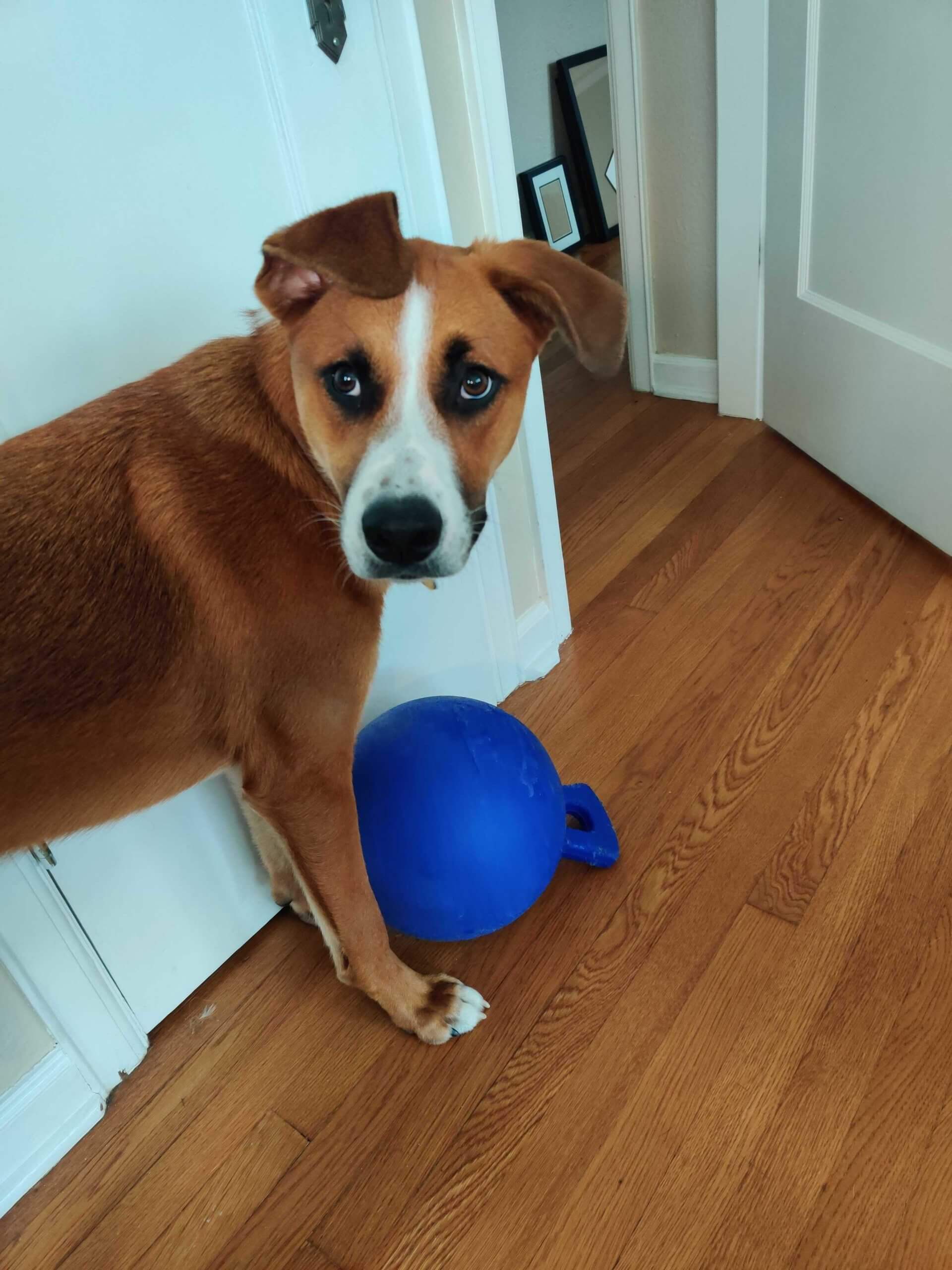 "Beau is a year old German Shepard/Catahoula mix who is learning to be a great coworker. He's very energetic and often goes above and beyond to participate in Zoom meetings where he thinks he can add value. His attention to detail is also top-notch (squirrel-spotting is a specialty), and he diligently keeps us on schedule with helpful reminders for walk and meal times." – Ellery Pruett, Senior Consultant
Final Thoughts
At OpFocus we believe in being truly inclusive, and welcome those of all backgrounds and species. Whether it's our clients or team members, we approach every interaction with a positive attitude and open arms.
Now that you've seen our furry coworkers, why not meet the rest of us. The human half of our team is full of some of the most kind-hearted and knowledgeable professionals in the industry!