SteelBrick Winter '16 Release Recap
With the SteelBrick Customer Success Summit right around the corner, we wanted to take a second to highlight features from the SteelBrick Winter '16 Release. This was their largest to date with over twenty features that give sales reps greater flexibility and provide admins with additional tools to address complex requirements. In addition, the platform now offers a more customizable and branded experience. Here is a look at these highly-anticipated features.
Sales Productivity
Dynamic Bundles:
Product Bundle is a pre-existing SteelBrick feature which allows you to customize the Products, Features and add Constraints. For example, if you purchase a computer, the monitor is included, but you need to select from an option of sizes. In the past, these bundles had to be pre-defined in order to be added to a Quote. With Dynamic Bundles, sales reps have the flexibility to create their own bundles on the spot using a combination of exiting bundles or standalone Products. Admins can control which products can be included in a Dynamic Bundle with the use of Product Filter rules. This structure gives the reps greater freedom to configure custom solutions while still allowing the business to have control of their solutions' offerings.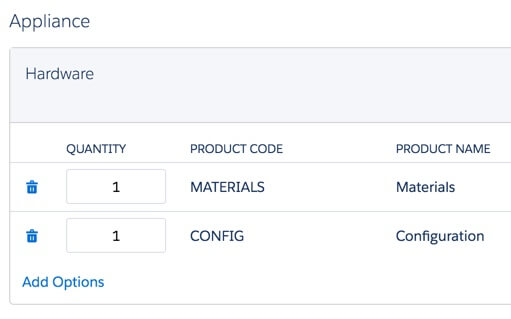 Favorites:
Sales reps often find themselves selecting the same Products, configuring the same bundles, or creating the same Quote Line groups for different Quotes or different customers, which can become tedious and time consuming. With the Favorites feature, sales reps can now save preferred configurations for use on future Quotes. With a quick click of the star icon, the sales rep can save, name, and share their Favorite products with other users and/or groups. For admins, Favorites can be easily managed by sharing, editing or deleting them.
Enable Grouping from Line Editor:
Line Item Groups allow users to create groups of Products on the line editor, apply discounts and obtain package totals. The most common use case for this feature is quoting an Account with several locations. You can clearly define the Products for each location and apply different discounts. This is a pre-existing SteelBrick feature where, in the past, users had to save your work, leave the Line Editor and enable the Group Line Items checkbox on the Quote. Now, the process is reduced to a click of a button from within the Line Editor, where users can easily enable and disable groups.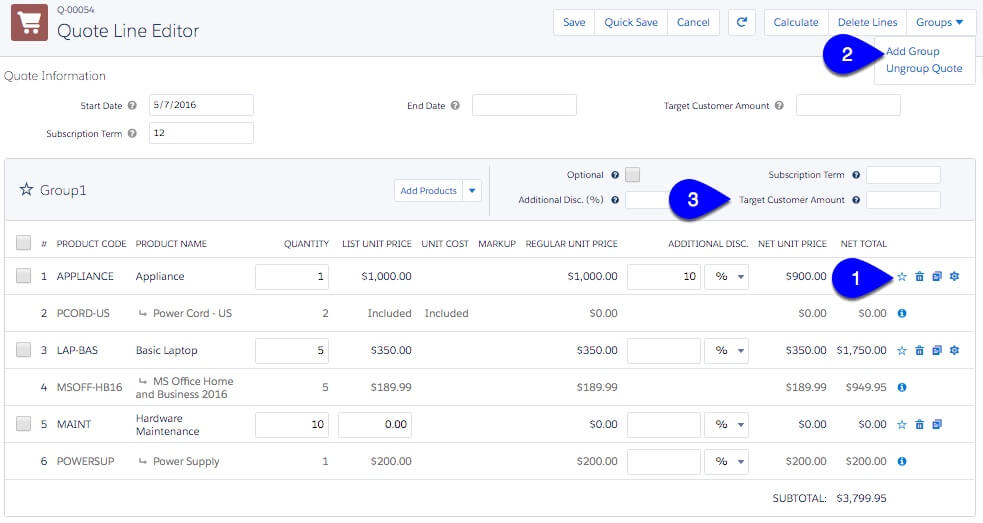 Group Level Goal Seek:
Goal Seek is a pre-existing feature that allows sales users to enter a target amount for their customer based on their budget. SteelBrick will automatically apply a weighed discount to each line item so the quote total matches the Target Customer Amount. The Target Customer Amount will override any Additional Discounts applied to line items, and will continue to adjust the distributed discount as additional Products are added in order not to exceed the customer's budget. SteelBrick has reproduced the Target Customer Amount field and applied it at the group level. Within the same Quote, sales reps can now meet different budget amounts for each group.
Soft Validations/Warning Messages:
Validation Rules, as a whole, can be applied to any field in Salesforce to warn the user that the value is incorrect or missing some information. The same rules can be applied to products to validate the configuration. In a Validation Rule, if the set conditions are met, an error message will appear and the user will not be able to proceed until the error is addressed. Now, admins can create a soft validation/warning message that will alert users during configuration or pricing, but unlike validation rules, it will not prevent the user from proceeding with their quote.

Admin Productivity
Lookup Tables:
Price Rule is currently a feature in SteelBrick that allows users to automate price calculations and update Quote Line fields. To trigger the price action, users can set as many conditions as you like and also specify if one or all the conditions need to be met. In Winter '16, SteelBrick has enhanced this feature by adding Lookup Tables. In basic terms, users can create a custom Object where they will store their data and reference the Object in the Price Rule. Admins now have more options when designing their pricing and discounts, which will be of great benefit for businesses with complex pricing rules.
Insert Static PDF's into Quote Documents:
Previously, if users wanted to include a static PDF with their output document, they had to include it as an Additional Document. In this release, SteelBrick has enhanced this feature, so users can now insert their static PDF document at the end of a specified quote template section. This means the static PDF will be inserted between dynamic content.
Platform Productivity
Theme Engine:
At one point or another, admins may have hoped to be able to customize SteelBrick with their corporate branding. Well, now this is possible! Admins can customize the color themes of headers, background, fonts, buttons, and other elements, and associate it to their organization or to a specific user.
Multi-Language Support:
The Translation Workbench feature has helped Salesforce users translate most of their organization including custom fields and custom picklists. Although SteelBrick is a native product, Salesforce wasn't able to support translations. In Winter '16, SteelBrick allows admins to provide and store translations for data using the Localization Object. For organizations that support multi-languages, admins can save time and upload the translations using Data Loader.


SteelBrick continues to lead the way in the CPQ space, and the Winter '16 release offers a set of features that will continue to expand their lead over the competition. If you would like additional information about SteelBrick, contact OpFocus. As a SteelBrick partner, OpFocus has a team of SteelBrick certified consultants who can assist you with your CPQ project.