Salesforce Duplicate Management Has Arrived
The long awaited release of Salesforce Duplicate Management arrived with the Spring '15 release. Users will no longer have to download an app from the app exchange to prevent users from creating duplicates in the system. Below is a basic idea of how the new feature works and some gotcha's.
How to Set up Duplicate Management
1) Create a Matching Rule – Navigate to Setup – > Data.com Administration – > Duplicate Management – > Matching Rules. Here you will be able to get the process started by clicking New Rule. Choose the object you would like to prevent duplicates for and then you will be taken to a page to select the fields for duplicate management. Choose 1 or more fields to match and then select matching criteria. The matching criteria will either be an exact match or a fuzzy match. The last step in the matching criteria is to update filter logic if needed. Once you have completed these steps it is time to create your Duplicate rule.

2) Create a Duplicate Rule – You can locate duplicate rules right under matching rules in the setup screen. Duplicate rules give the admin a lot of options which you should know about: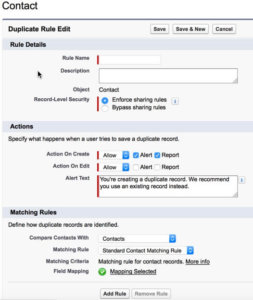 a. Record Level Security – The admin can choose whether to enforce or bypass sharing rules. Enforcing sharing rules will only match against objects the user who is creating the record has access to. This is the default in order to preserve system security.
b. Actions – Actions allow the admin to choose whether to block or allow users to create the duplicate that is matched when it is created or when it is edited. If the block option is selected the user will not be allowed to create a matching record. If the allow actions is selected, the admin can choose to alert the user they are about to create a duplicate and/or report if the user creates a duplicate even after they are warned.
3) Select what objects to compare – This section allows a user to compare the newly created object to one or more objects. For example you can choose to compare a lead with a lead or a contact. This will prevent your users from cheating the system by entering a lead and then converting it to a contact.
4) Activate The Scenario – Once everything is saved, click on the matching rules and activate your rule. You will receive an email once the activation is complete
Now that you have set up your Duplicate Management rules there are a few things to know.
1) Person Accounts are not Supported – As of the initial release, person accounts cannot be used for the duplicate management. The good news is this feature should be available in an upcoming release.
2) Duplicate Rules do not Always Run – There are a few scenarios where your duplicate rule will not prevent or alert a user they are creating a potential duplicate. If a record is created using the quick create, if a record is restored using the undelete button or if records are added using the exchange sync.
Overall, this is a great start! We should all be excited about the next set of enhancements Salesforce will release to help companies ensure data quality.