Salesforce.com's Workbench Tool Is Not Just For Developers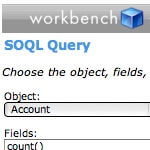 Workbench is a free tool from Salesforce.com that benefits Developers and System Administrators alike. Beyond its API and developer related utilities, it offers data tools that resemble and exceed those of the Data Loader. Best of all it is browser-based- you can access it via workbench.developerforce.com. It's official description from the tools page on developer.force.com is:
This powerful, web-based suite of tools designed for administrators and developers to interact with Salesforce.com organizations via the Force.com APIs. Workbench includes robust support for the Force.com Partner, Bulk, Rest, Streaming, Metadata, and Apex APIs that allows users to describe, query, manipulate, and migrate both data and metadata in Salesforce.com organizations directly in their web browser with a simple and intuitive user interface.
We like suggesting Workbench for System Administrators because:
Query Results can display Record Counts, Lists, Matrices, and allow you to download Bulk XML and .csv files. You can play with and analyze your queries before committing to an export.
Those on a Mac can use it without additional software- just open a browser!
There are more data load options than Data Loader (Insert, Update, Upsert, Delete, Undelete, and Purge).
It gives us access to data and structural info from all Objects in the system (like the Data Loader).
We can include or exclude Deleted and Archived Records.
It works with Professional Edition when API is enabled.
It allows easy access to Production, Sandbox, and Pre-release orgs.
Some drawbacks to Workbench include:
An inability to save and reuse data load mappings, as we can do with the Data Loader.
No ability to do command line or scheduled actions, as with the Data Loader (not that we've ever seen anyone do either).
It is not a supported Salesforce.com tool.