Rolling Thunder — Preparing to Migrate to Salesforce Lightning Experience
Preparing to Migrate to Salesforce Lightning Experience
You have probably heard of Salesforce Lightning Experience, and wondering if you're ready to migrate. If you haven't yet, you will after watching this video!
[su_youtube_advanced url="https://www.youtube.com/watch?v=V3BBZC35ntc"][su_youtube_advanced url="https://www.youtube.com/watch?v=2Uf4uBNh6Js"][/su_youtube_advanced]
Now that everyone is on the same page, you may be thinking, "Oh snap, how do I get ready to use lightning? When should I make this change?" Worry not, fellow Salesforce user. This article will help you to prepare for the coming storm (pun 100% intended). Salesforce Lightning Experience is well on its way, and you can make sure that your organization is ready to ride some lightning. Follow the advice below!
Readiness Check
Admins, before you do anything, go to your org and check out the Salesforce Lightning Experience Migration Assistant. Do this in a few easy steps: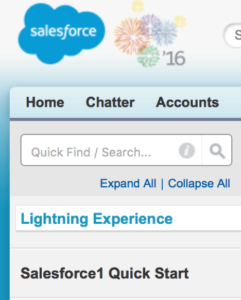 Click on the Setup button in the top right corner of your screen to the left of your name.
Click on the Lightning Experience link directly below the search bar on the left side of the screen.
Optional: watch the Introducing Salesforce Lightning Experience video under the Learn About Lightning Experience header.
Click the Evaluate button on the right side of the screen, directly under the "Evaluate if Lighting Experience is Right for Your Org" header.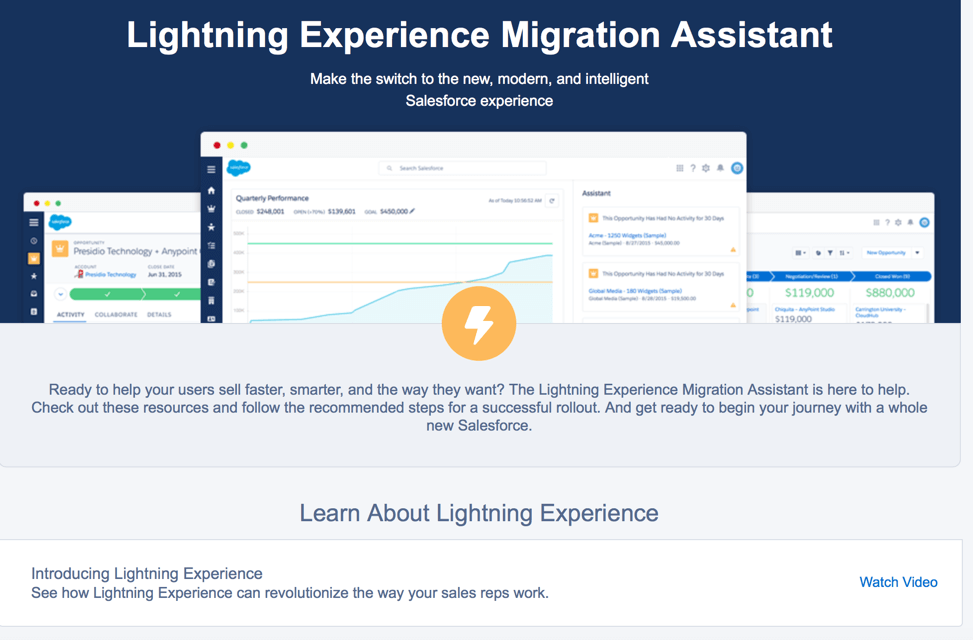 Within a few minutes, this built-in evaluation of your system emails a report to your inbox. The report contains an assessment of your system, and identifies functionality you cannot transfer over to Lightning Experience. Was that a shocker? Not all of the features currently available in Classic will work in Salesforce Lightning Experience.
Salesforce Lightning Experience Readiness Report
The report is split up into eight sections to better help you understand where your organization may have issues in the transfer from Salesforce Classic to Lightning. Using this report, you will get a better understanding of what your next steps should be. Go ahead. Read through the report. I will be here when you're done.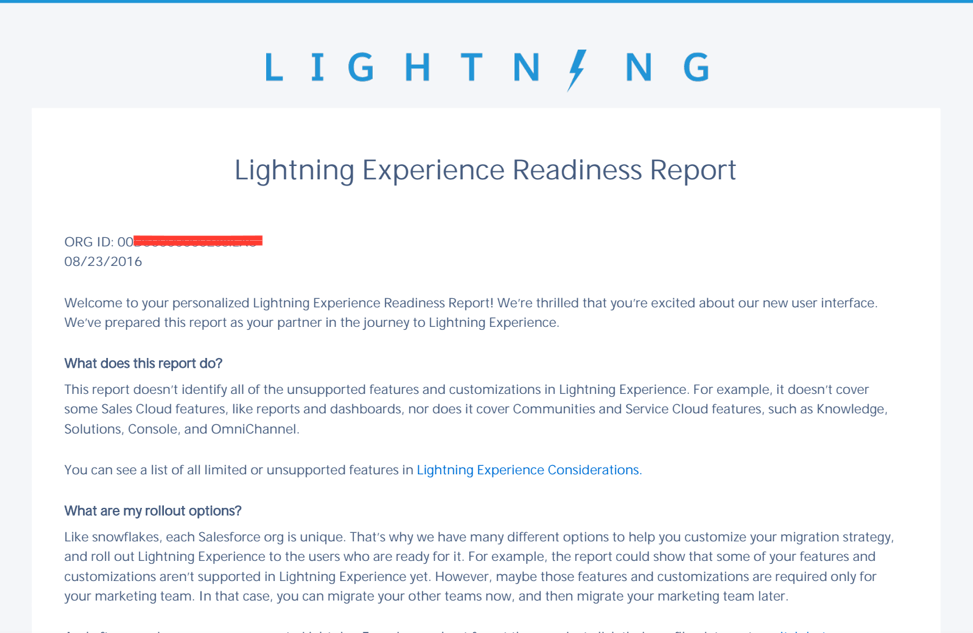 Are you back? Great! Let's go over a few things you may have noticed in the report.
Javascript Buttons
You may have noticed the section titled Custom Buttons and Links – JavaScript. JavaScript buttons are not supported in Salesforce Lightning Experience, but there are some workarounds if you really need them. One option is to replace your JavaScript buttons with a Visualforce page. Talk to your Salesforce developer for more information on these options.
Custom URLs
This customization of buttons brings us to the next thing you may notice: Custom Buttons and Links – URLs. URL hacking is going the way of the Dodos in Salesforce Lightning Experience. Fortunately for admins, Salesforce has provided built in functionality to do the same thing as some of these URL buttons – Chatter Publisher actions. Custom Chatter Publisher actions can be created to replace most, but not all, custom button and links based on URLs.
Other Standard or Custom Functionality
Other sections in your system evaluation may be more straightforward, and have suggestions on how to move forward in your rollout of Salesforce Lightning Experience. You may see sections on standard Tabs and Objects, Related Lists, Email Templates, or other customized components on your Home Page or Visualforce overrides.
Take note that like Classic, Salesforce Lightning Experience is dynamic! Some of the functionality that it does not have today may be available in a future release. See if something on your Lightning Readiness Report is mentioned on Salesforce's Lightning Experience Roadmap.
What Should I do Next?
Now that you have an idea of how ready your current org is to implementing Lightning, take your time to go through the following Trailhead Modules in order to get ready to ride some Lightning:
If you need help or expert guidance on rolling out Salesforce Lightning Experience, strike up a conversation with the experts here at OpFocus!