Publisher Actions: Quick Trick to Record Data Better & Faster in Salesforce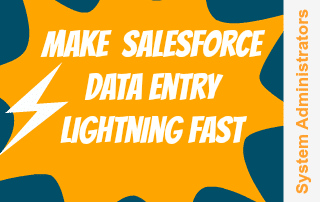 We get it… data is key to running your business. Without it, marketing wouldn't be able to target the right audience and sales could miss reaching hot leads. We know how important it is but we also know how much of a pain it can be, especially manual data entry. If you've ever asked yourself, "There's got to be a better way to input this information into Salesforce?" or "Why isn't my team recording this data?" … well now there's a simple solution with Salesforce Publisher Actions. Publisher Actions are shortcuts to creating records in Salesforce.com that can be configured by the Sys Admin without any code. Page layouts in Salesforce can be configured to have a section on the Chatter Feed where records can be created in other objects, such as creating Opportunities, Contacts, Contracts (related objects) from the Accounts (main object) page layout without leaving the page. These mini-page layouts for related objects can have a subset of the fields in the main page and also have pre-set values to reduce data entry.
Here's a prime example of how a company can use Publisher Actions:
Imagine, Inc., a 3-D printing start-up uses Salesforce.com Professional Edition as its main business database. The spirited team of five entrepreneurs that run this venture has very little patience for data entry, but still care about getting accurate numbers on closed business.
Business Problem: Imagine, Inc. has two very different types of sales –
1) Re-printing 3-D models for existing customers – e.g University EC has printed out different molecular structures for their Chemistry students and would now like a set for the Biology Department as well. Re-printing has a very short sale cycle – the customer simply provides them with a model number, quantity and a PO and the deal is closed won and ready to be billed.
2) Printing new 3-D models – This takes much longer as new projects, especially with new clients, have to go through client qualification, prepping the file for the design input, pricing, quoting etc.
Salesforce, with all sophisticated data model glory is well suited for Process #2. But in Process #1, this results in data entry to be unnecessarily cumbersome as we are moving from one screen to the next to close the Opportunity, attach the Customer's PO (Purchase Order), then create an Invoice record.
Solution: Publisher Actions can allow the user to create an Opportunity (defaulting to Stage=Closed Won), attach the PDF file for PO, and create an Invoice record with Due Date defaulting to a month from date of creation, all without navigating away from the Account page. Three separate publisher actions are set up at the top of the Account Page.
[slider width="100%" height="100%"]
[slide type="image" link="" linktarget="_self" lightbox="no"]https://opfocus.com/wp-content/uploads/Create-Purchase-Orders-and-Opportunities-with-Salesforce-Publisher-Actions.png[/slide]
[slide type="image" link="" linktarget="_self" lightbox="no"]https://opfocus.com/wp-content/uploads/Upload-Files-with-Salesforce-Publisher-Actions.png[/slide]
[slide type="image" link="" linktarget="_self" lightbox="no"]https://opfocus.com/wp-content/uploads/Create-Invoices-with-Publisher-Actions.png[/slide]
[/slider]
To re-create this example, follow the steps below to set up the interface for users to create records in multiple objects from the original object:
Overview of Setup Steps
Enable feed tracking by going to – Setup| Chatter| Feed Tracking – Enable for Object where you want Publisher Actions
Create and define Actions under 'Customize | Accounts | Buttons, Custom Links and Actions'
Set up Pre-Defined field values for fields
Adjust Actions Publisher layout i.e. the layout of fields in the section illustrated above
Go to Account Page layout and place Actions (created in 2) on the Account layout on Chatter feed area
Ensure that page layouts that are assigned to users who need access to this functionality have been edited
Additional Resources
This example illustrates one out of countless ways of using which Salesforce Publisher Actions. Please comment below if you run into any additional questions!
[tagline_box backgroundcolor="" shadow="yes" shadowopacity="1″ border="2px" bordercolor="" highlightposition="top" link="https://opfocus.com/services/the-opfocus-strategic-roadmap/" linktarget="_self" buttoncolor="" button="Check It Out" title="Do you feel confident your processes are optimized and solving your business needs? Want us to take a look? You might be perfect for our OpFocus Strategic Roadmap. " description="" animation_type="slide" animation_direction="right" animation_speed=".8″][/tagline_box]