How to Create a Custom Help Tab in Salesforce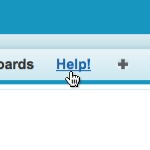 Why is it that so few Salesforce.com systems we see have in-your-face help on the company's business processes for Users to leverage? Salesforce is incredibly well documented as a tool, but the out-of-the-box Help obviously can't explain anything about your internal processes.
One of the easier customizations you can make in Salesforce.com is to add a Custom Visualforce Tab to display help content for your users. A Visualforce page can display anything that a standard Web page can, so it's up to your imagination what sort of content you might put on it. We've displayed definitions of Sales Stages, embedded YouTube videos showing click-by-click explanations for important business processes, and provided lists of links to other helpful content. Visualforce Pages and Tabs can be created in all Salesforce.com Editions. In Salesforce.com, using a little known feature called Static Resources, you can even host files of various formats (up to 5Mb each, 250Mb total) directly within Salesforce to be called from or displayed on your custom Help! Tab. While logged in as a Sys Admin:
Create a Visualforce Page called "Help" under Setup/Developer/Pages. You can literally drop in any Web content (in well formatted HTML) you want. If you need a place to store images, documents or videos to reference in your Help page, you can use Static Resources (Setup/Develop/Static Resources) and then reference the files from within your Visualforce Page.
Create a Visualforce Web Tab called "Help!" under Setup/Create/Tabs, which references your Visualforce Page. Ensure that you enable the Tab for the appropriate Profiles (on Step 2), and include the Tab in the appropriate Apps (on Step 3).
If necessary, edit the Apps you added the Help Tab to, to put it in your desired Tab order. (Setup/Create/Apps)
Normally when creating Visualforce Pages you have to go to each Profile and allow Users with each Profile to access the Visualforce Page. For whatever reason, this requirement is not necessary when calling the Visualforce Page into a Visualforce Tab, which has its own Profile permissions to set.