Email to Salesforce – Overview of a Top 3 Productivity Feature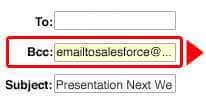 One of my favorite features in Salesforce.com is Email to Salesforce. It allows Users to send an email from their preferred mail client, BCC a unique email address, and have that email copied into Salesforce and associated with a Lead or Contact, Account and open Opportunity. It even supports file attachments being copied into Salesforce! For a busy sales team that leverages email in their selling efforts, this is a god send.
Activation requires a simple checkbox check by an Administrator. After that, each User is free to adjust their settings and get underway, BCC'ing their personal Email to Salesforce email address (an extremely long mess of characters) on emails they want preserved in the system. Our best practice is for each User to copy their own long unique address, and create a Contact in their mail client (i.e. Outlook, Gmail, Entourage, etc) with an easy to remember name such as "SFDC" or "Salesforce" and that long email address. Then Users can simply fire off emails, BCC'ing that address, and know that they'll end up in Salesforce, associated to the correct Lead or Contact.
Before Users get going, they'll want to take a moment to update their Email to Salesforce settings. Out of the box, Email to Salesforce does not associate emails to Opportunities or save file attachments- which takes two checks to correct. By default Email to Salesforce sends a confirmation email for every outgoing email- which I can't stand, and immediately deactivate.
A recent feature enhancement allows us to prevent Email to Salesforce from firing on certain email domains, like our own.

Video By OpFocus on Salesforce Blog