Dreamforce 14 – What we learned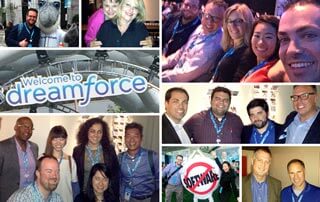 With the fog of information from DF14 starting to clear, the OpFocus team shared some highlights and observations. "Customer Success" percolated every session as the dominant theme. Central to this idea is that sales, marketing and operations can all benefit from a shared view of analytics – by pushing dashboards to a new level the pertinent data becomes instantly available with custom views to individuals at every point in your company.
Salesforce announced a number of initiatives to build a better experience for reps – starting with the soon to be released Today Page and the ability to provide maps and connections for increased context around daily tasks. Salesforce is embracing the "mobile first" strategy and integrating the look and feel from Salesforce1. Both Salescloud1 and Servicecloud1 will also receive an improved user interface in the coming months. But these improvements are more than aesthetics. With the analytics engine sitting right on top of the transaction engine, Salesforce is putting analytics right into the hands of the reps to empower decision making.
Analytics cloud
90% of the world's data was created in the last two years
Analytics Cloud will provide a holistic view of the company by integrating sales, social media, inventory and consumer spending
Having no data in transit means fast and nimble with a small footprint
Our take: Analytics Cloud looks robust but expensive and initially targeted to enterprise customers
Salesforce Wave
Analytics that everyone can use on all devices
Intuitive interface with a "game-inspired" user experience
Duplicates
Handling duplicates in Salesforce has been burdensome without third party apps. Salesforce has apparently received some 65,000 requests and it's finally getting some attention. Slated for release in Spring 2015 this new tool will be available for Professional edition or higher at no additional charge.
Matching rules define duplicates (set up by administrator)
Duplicate rules are flexible and easy to configure
Match leads with contacts with up to three rules including custom objects

Salesforce1 Lightning
Tools to build mobile applications
A new user interface
Includes standard "lightning" components such as calendar, map, notes, report chart, and Today
Our take: The boundaries between platforms continue to blur
Sales Cloud
By 2016, 55% of all salespeople will access apps solely through phones and tablets
Roadmap highlighted a new desktop experience with geo location and territory forecasting
Forecast on anything including any custom field

Cr

edit overlay teams in complex deals
Service Cloud
Customer experience has overtaken price and product as the key brand differentiator
Your product is only as good as your service
Embed personalized, live support in any device
Service Communities feature new templates with responsive design
Smart Agent Console has a new modern layout with next-gen predictive search
Community Cloud
New connectivity to integrate any data, record or app into community
Advanced features out of the box include a mobile SDK and API's for SOAP and Chatter
Basic out of the box features include Salesforce Tabs UI and branded email
Pardot roadmap
Themes include Sales Reach and improved SFDC integration with Nurture Studio
Sales Reach is your personal marketing assistant
Multiple scoring and fit models based on business needs
DF hindsights and observations
If you have not secured a seat, plan on arriving 30 minutes before a sessions starts
The Marc Benioff keynote ran almost as long as LOTR "The Fellowship of the Ring", but Hillary Clinton drew a larger crowd
With nine hours of sessions a day, be realistic about what you can do and see. Before planning six-hours of back-to-back sessions, think about what you can absorb and what will be beneficial
Should have studied the session list sooner and allowed more time for getting between venues
People who decided to attend DF14 at the last minute seemed to be most exhausted by weeks-end due to longer commutes. Book your hotels early!
Lots of people use the sessions to get work done
The keynote highlights and many of the sessions are available on the Salesforce YouTube Channel.
https://www.youtube.com/watch?v=LEMl4hnvjVM&list=PLnobS_RgN7JZwRR9vpMag6AEKCod4uY7H