Become a Certified Salesforce Administrator!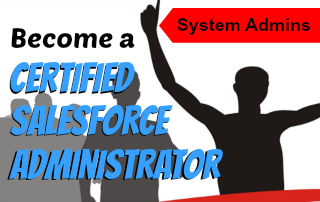 Spring has Sprung! Salesforce Spring '15 is in now in full swing, and as part of that, the updated Certified Administrator exam Spring '15 study guide and Spring '15 Release notes are now available.
What this means is that we know where to focus our studying efforts and subject matter deep dives. In addition, Salesforce has a tremendous amount of amazing publicly available materials to help us understand and test drive in Developer orgs. This includes the Salesforce User Guide, aka the "Salesforce Bible".
Organization Setup – 1%
User Setup – 9%
Global User Interface – 1%
Security and Access – 15%
Standard and Custom Objects – 18%
Sales Cloud Applications – 9%
Service Cloud Applications – 6%
Activity Management – 3%
Chatter – 1%
Data Management – 11%
Content and Folder Management – 2%
Analytics – Reports and Dashboards – 13%
Workflow Automation – 7%
Desktop and Mobile Administration – 2%
AppExchange – 2%
[tagline_box backgroundcolor="" shadow="yes" shadowopacity="0.1″ border="1px" bordercolor="" highlightposition="left" link="https://opfocus.com/services/training/" linktarget="_self" buttoncolor="green" button="Training Info" title="Want to ace the Salesforce Certified Administrator Exam? We offer classes specially tailored to the exam!" description = "See when our next class is offered!" animation_type="slide" animation_direction="left" animation_speed="0.7″][/tagline_box]
Picture Credit: http://www.gingerbreadcentre.co.uk/files/8613/9108/3912/Marathon_runner.jpg