Android Users Can Now Access Salesforce.com and Chatter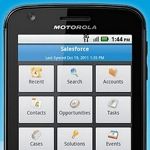 D-R-O-I-D!!!
With the Spring '12 Release of Salesforce.com come a few important changes to the Mobile offerings of Salesforce.com. Notably that Android is officially in, and Windows Mobile is out. If you are a Salesforce.com User, you can download these apps from the Android Market. Installation is simple, and after logging in the first time, you create a simple 4-10 character passcode to use instead of your normal Salesforce.com passcode.
For those of you not already taking advantage of Mobile Lite, it is a FREE way to access Salesforce.com data from your iPhone, BlackBerry and now Android device. While it isn't customizable, Mobile Lite lets your users access and update Leads, Accounts, Contacts, Opportunities, Cases, and Solutions- and view Dashboard charts. It integrates with your device's OS to allow calls and emails to be initiated, and noted as Activities. The paid Mobile add-on allows for full customization, and access to Custom Objects and the Content Module.
Chatter Mobile is also now available for both Androids and Android Tablets (with OS Version 3.0 or higher). In a slight departure from the simplicity of administering Mobile Lite, a system administrator must first check a box that allows Androids to access Chatter Mobile. (Set the Android as an Authorized Device under Setup/Mobile Administration/Chatter Mobile/Settings.)
Salesforce.com will continue to be available to Windows Mobile users who already had installed the app, but not available to any new users.