5 Helpful Sales Features in Lightning Experience (Proceed with Caution)
First, a note of caution:
The Salesforce Lightning Experience, in its infancy, is not yet ideal for most organizations, especially those that use a list of features in this infographic. While Salesforce has not committed to future release plans, we can make the assumption that some (if not all)of these elements will be compatible in the future.
Salesforce designed this new UI to focus on increased speed and productivity. With changes to the home page and opportunity and lead workspaces, sales users will find it easier to work quickly, stay on task, and see how they are progressing towards their goals. For organizations that are compatible for the Lightning Experience, I've identified 5 new features that will be helpful to the everyday sales experience.
1. A New Design
The new look is sleek. The object tabs have been replaced with icons on a collapsible side bar. Animated
graphics have been added. Each page is simplified and organized and has a very modern feel. And though Salesforce has certainly made the new design pleasing to the eye, they've also put a lot of thought into the use of each object record page.
Now, when you access an object record, you will find the object's most relevant information grouped into a few tabs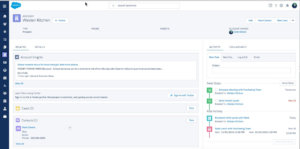 in the middle of the page and related information in a side bar to the right. Rather than scrolling through the record's chatter feed, details, activities, and related list, users can find what they need in just a few clicks. For Leads and Opportunities, the more action driven objects, activities and tasks are front and center, whereas details, related lists, and account insights are the focus of account and contacts.
On many pages, Salesforce has done a great job of minimizing the need for scrolling or page changes. This new design is really in keeping with their idea of improving speed and keeping users productive.
2. A New Home Page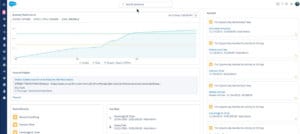 Two great new features on the home page include a new Quarterly Performance Chart, which allows you to set your goals and see how you are progressing towards them, and an Assistant, which helps you stay on top of the day's most important information. Depending on permissions, the Assistant may display your new lead assignments, current or overdue task, and opportunities that need attention. The home page also includes links to recent records and top deals. With these new home page features, you can easily stay on top of information that is key to improving your performance.

3. New Activity Tools
As I mentioned above, Salesforce has made changes to the Opportunity and Lead pages to be more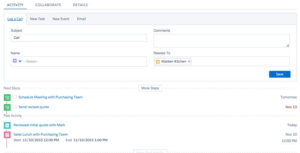 activity driven. With these changes, Salesforce has done away with the old activity and activity history related lists and introduced a new tool which allows you to quickly flip through tabs to log calls, create new tasks, create new events, and send emails. Once a new activity is created it flows down to the activity timeline below so you can keep track of what's been completed and what needs to be done as you continue to work towards closing your deals.
4. Sales Path
If you've used Sales Path in the Salesforce1 mobile app, you may be pleased to learn that this feature is now available for desktop use through Lightning! For those of you not familiar with Sales Path, it's a handy tool for visualizing the sales process. You can see the current stage of all your opportunities and leads at a glance and update the status of your deals directly on the path with only two clicks.

Using this tool in conjunction with the new activity tools located directly below, you can see how far you are from closing your deals and what is needed to keep working towards closing your deals or converting your leads.
5. Opportunity Board



The Opportunity Board is another great tool for visualizing your sales process. Each stage is divided into its own column and opportunities are grouped according to where they are in the pipeline. Each column displays the record count and sum $ amount of all the opportunities at that stage, and any opportunities that might need attention display an orange triangle. Simply drag and drop functionalities allow you to easily alter the stages of your opportunities. This tool is excellent for keeping track of your pipeline and helping you to determine on what opportunities you should be focusing.
With the new tools and design features, it is clear that productivity is a key goal with lightning experience. Sales users will love the ability to work quickly and stay on top of their performance goals. Though your organization may not be ready to switch to Lightning just yet, you can rest assured that there is a lot to be excited about when that time finally comes.
________________________________________________________________________
As experts on the subject, OpFocus is committed to sharing the most update Lightning Experience news. How can you stay informed?
Have an understanding of what Salesforce Lightning means to you.
Check out our learning center.
Pay close attention to future Salesforce Release Notes.
Subscribe to our blog and newsletter to receive the latest news on Lightning Experience developments and the impact they will have on your organization.